The Apprentice returns to our screens again for a new series as 18 ambitious candidates undergo rigorous tasks to land a life changing £250,000 investment from Lord Alan Sugar in their business venture. Among them are four people from London, all hoping to be named Lord Sugar's next business partner.
Last year saw Harpreet Kaur win the competition in a tough battle against Kathryn Burn. Harpreet secured the investment for her dessert parlour business and said she never realised how direct she was.
The new series will also see fan favourite Claude Littner return for two episodes in a reduced role. The rest of the board will stay the same as last series - Lord Alan Sugar, Baroness Karren Brady and Tim Campbell.
LondonWorld has compiled a list of all the contestants from London.
When does The Apprentice start?
Fans of the popular show will not have to wait long, as the latest series returns to our screens on Thursday, January 5 on BBC One.
The Apprentice candidates from London
Avi Sharma - City Banker.
Avi is the youngest contestant in the series and says that he is the 'hardest working rat he'll (Lord Sugar) will ever meet.' He believes that Lord Sugar's investment will get him out of the 'rat race' of banking.
Sharma hopes his positive energy can help him go far in the competition. He says his USP is "I'm a confident chap who can bring a smile to the most miserable face!"
Mark Moseley - Owner of a pest control company.
A former soldier, Moseley has travelled the world in both remote and hostile conditions, giving him qualities that will be able to handle the boardroom. When asked why he should get the investment, he said "I deserve Lord Sugar's investment because the pest control industry is worth hundreds of millions of pounds a year in the UK.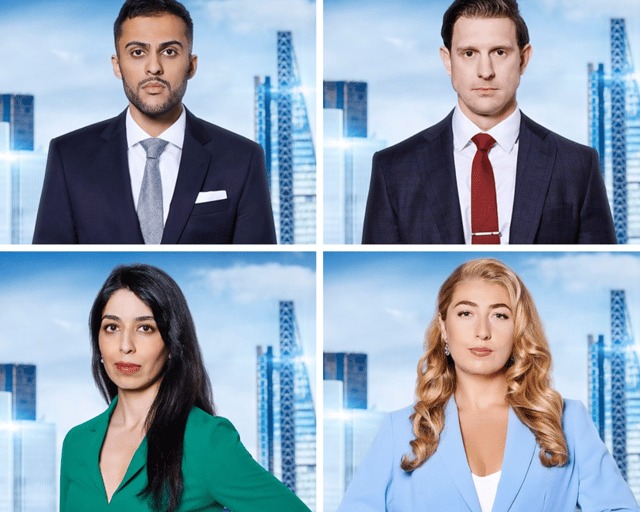 "Out of all the candidates on paper, I am the one who can grow the business the quickest. If Lord Sugar doesn't pick me, then he's missing a trick."
Marnie Swindells - Court Advocate.
Swindells is a gold-winning olympic medalist in boxing and now a business woman. When asked about her USP, she said "My unique selling point is my imagination and creativity. I can see opportunity everywhere I look and being able to have that vision is something I think separates me from other people."
The former Olympian admits her eagerness and passion to succeed may actually be her biggest weakness. She said "My biggest weakness is that I can come across as being headstrong, but it's actually my passion and eagerness to succeed."
Shazia Hussain - Technology Recruiter.
Ahead of appearing on the show, Shazia said "I don't need any friends in business. I am here to win this." She has ADHD, and believes that gives her an advantage as she can process information faster, look at things differently and react quicker than her counterparts.
When asked why she deserves the investment from Lord Sugar, she said "I deserve Lord Sugar's investment for my ability to identify niches in business and to develop them into USPs. It's important to see a varied representation of women, including women with neurodiversity in business, as people with neurodiversity are linked to being increasingly successful within the corporate sector.
"I hope that I'll encourage more people like me not to be ashamed of their difference. It's okay to be different. It can make you extremely successful within business."