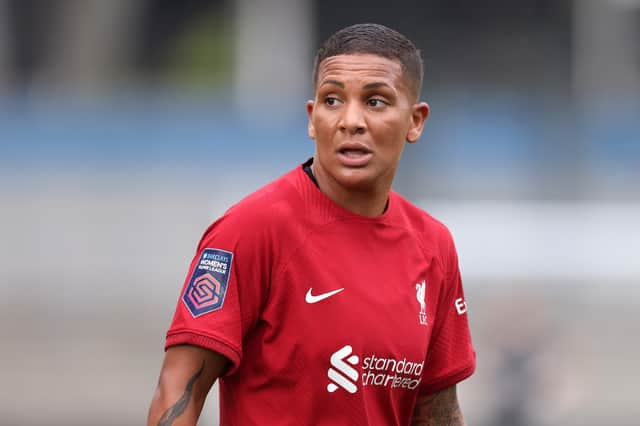 Twelve teams will kick off their 2022/2023 campaigns with a round of six league fixtures between Friday and Sunday - here are this weekend's key talking points…
Sleeping giants and fond reunions
Liverpool have returned to the WSL after spending two terms away for the first time since the division's inception.
After controversially suffering relegation in the same season as their male counterparts lifted the Premier League trophy in 2020, Matt Beard's side are back in the club's thoughts and on track to flourish this season.
Following the Reds' peerless Championship-winning season, former West Ham boss Beard has been reunited with ex-Hammers skipper Gilly Flaherty, while forward Shanice van de Sanden returns to Merseyside after four years competing on the continent.
Boasting nearly 100 career goals, the 29-year-old was left out of the Netherlands' Euro 2022 squad after a season warming the bench at Wolfsburg but perhaps she can refind form on familiar turf.
It'll be a baptism of fire for the newly-promoted Reds who, after the postponement of their easing-in opening weekend fixture against Reading, face WSL holders Chelsea first up.
The postponement of the opening weekend due to the death of Her Majesty Queen Elizabeth II was an unfortunate delay to what was set to be a momentous reboot for women's football following the Lionesses' Euro 2022 triumph.
With Stamford Bridge, the Amex and the Tottenham Hotspur Stadium preparing to host hordes of new fans, box office clashes between title rivals Manchester City and Arsenal and Champions League qualification hopefuls Spurs and Manchester United were shelved until a later date, when those larger venues may not be available.
All WSL games are going ahead this weekend, while three Premier League matches are off due to policing resources and transport disruption.
Amid discussions that WSL fixtures should be exempt from the 3pm media blackout, this weekend offers the chance to discover the extent to which the divisions are fighting for the same audience.
Fans who planned to travel to Old Trafford to watch Erik Ten Haag's side take on Leeds United could watch the women's side take on Reading at Leigh Sports Village, while fans of Chelsea and Liverpool's men's sides can watch their female counterparts battle out a like for like fixture and Palace fans missing the M23 derby could watch the women's Championship side defend their unbeaten start to the season against Southampton at Selhurst Park.
Stakes high for Skinner reshuffle
Manchester United Women boss Marc Skinner will have just two days to get a new-look midfield humming following the departure of Jackie Groenen on a permanent signing to Paris Saint-Germain on Thursday.
The Red Devils were reluctant to part ways with the Dutch star, who has made 50 United appearances since signing in 2019, but could not stand in her way as the attraction of Champions League football with the French side proved too strong.
After United narrowly missed out on qualifying for European competition last season, Groenen's departure will sharpen Skinner's desire to make it count this term, with their Manchester rivals the most likely of the established 'big three' to make way.
WSL fans will see players continue to take the knee as a protest against racism ahead of this weekend's fixtures.
While the Premier League have opted to reserve the gesture for specific moments during the season, WSL club captains have agreed to allow team-mates to take the knee ahead of every match if they choose to.
Meanwhile, WSL clubs will mark the passing of the Queen with moments of silence during games this weekend.
Arsenal manager Jonas Eidevall is looking forward to opponents coming together to pay respects.
"I think they will respond like the nation has been in general - with great respect to the Queen and to remember and honour her," Eidevall said in his press conference ahead of the Gunners' WSL clash against Brighton and Hove Albion.
"I think that will be a nice moment to show unity that can be for both home fans and away fans and home team and away team."