The footballing world is still feeling hot under the collar after Fulham imploded with a flurry of red cards against Manchester United on Sunday, including one for aggressive Serbian striker Aleksandar Mitrovic.
Mitrovic saw red on Sunday when protesting a handball incident involving teammate Willian, which resulted in a Red Devils penalty. The forward pushed referee Chris Kavanagh and was promptly met with a red card.
Both Willian and manager Marco Silva were sent off either side of that moment as the London side capitulated to lose 3-1 to Erik ten Hag's men.
Many have called for Mitrovic to face an extended ban, rather than a simple three-match suspension, due to the shocking nature of the moment.
The star has earnt a total of seven red cards throughout his footballing career and LondonWorld is on hand to remind you of the other times he's been sent to the showers early.
August 27, 2011 vs OFK Mladenovac
Aleksandar Mitrovic's first professional red card came in his Serbian Super League appearance for Teleoptik. The striker did score in a 3-2 loss but also picked up his second yellow card in the 88th minute to see red.
November 22, 2012 vs Neftchi Baku
Mitrovic's second red card came when playing for FK Partizan Belgrade in the Europa League. Mitrovic also scored in that game before clashing with the Baku keeper Sasa Stamenkovic to be awarded a straight red in the 76th minute. The striker said he was provoked but Stamenkovic commented: "This guy probably has problems in his head."
September 22, 2013 vs Club Brugge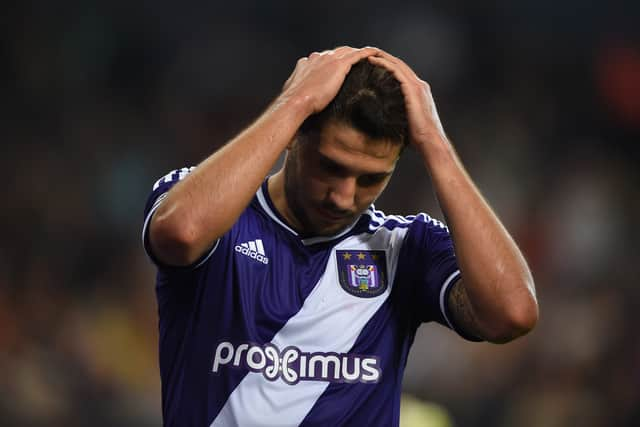 The first of two red cards the following season came against Club Brugge in the Jupiler Pro League when playing for RSC Anderlecht. Mitrovic allegedly spat at opposition fans in the 92nd minute after being ribbed all game long and saw red.
May 4, 2014 vs Club Brugge
Club Brugge really got Mitrovic riled up that season. Anderlecht played the side in the Pro League Playoff and the striker made an infamous headbutt on centre-back Bjorn Engels. Mitrovic had only played 37 minutes when he was sent off.
August 29, 2015 vs Arsenal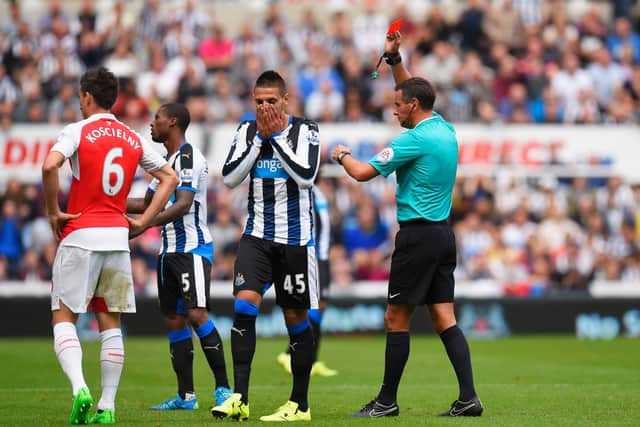 Mitrovic looked to have calmed down a little when he didn't pick up a red card in the season that followed the double Brugge whammy but was sent for an early bath in August of the next campaign. During his first Premier League start at St James' Park for Newcastle, Mitrovic left his studs up when challenging Arsenal's Francis Coquelin and was sent off after 16 minutes. The Magpies went on to lose that match 1-0.
May 15, 2016 vs Tottenham Hotspur
The striker led a Magpies romp at St James' Park with a goal and an assist as Newcastle beat Spurs 5-1. Unfortunately, a bad tackle on Kyle Walker meant his match ended in misery on the final day of the season. Newcastle did score three of their five goals after their striker was sent off but were relegated that year.
March 19, 2023 vs Manchester United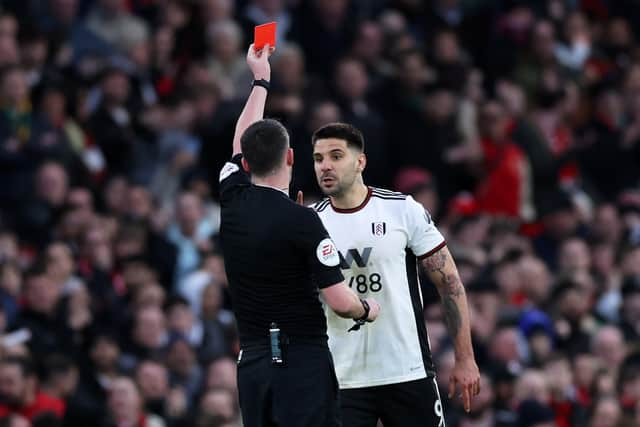 Mitrovic then became somewhat of a good boy for seven years and avoided red cards, although was no stranger to a yellow. That ended last weekend with the push on Chris Kavanagh in the FA Cup clash with United.