That may prove to be a tough task. After a relatively slow start to the current season, United are now firing and are firmly in the title race. Their last outing was a 2-1 win over bitter rivals Manchester City.
Meanwhile, Crystal Palace have lost their last three games in a row, losing to Tottenham 4-0, Southampton 2-1 in the FA Cup third round and to Chelsea 1-0 in the Premier League last time out.
It will be the first meeting of the sides this season. The last game between the two came at the end of the 2021/2022 season where a goal from former United man Wilfried Zaha was enough for three points.
The game will be an important turning point in Palace's season. They will want to distance themselves from the relegation zone, but have lost their last two at home without registering a goal. They haven't lost three in a row at home since 2017.
When does Crystal Palace v Manchester United kick off?
Crystal Palace v Manchester United will kick off at 8pm on Wednesday, January 18 at Selhurst Park.
How to watch Crystal Palace v Manchester United on TV
Non-Sky customers can currently purchase the Sky Q, Sky TV, Netflix & Sky Sports package. This grants you access to Over 400 live football games on Sky Sports, plus Sky TV & Netflix and costs £44 (their lowest ever price on this deal) a month plus a £20 set up fee.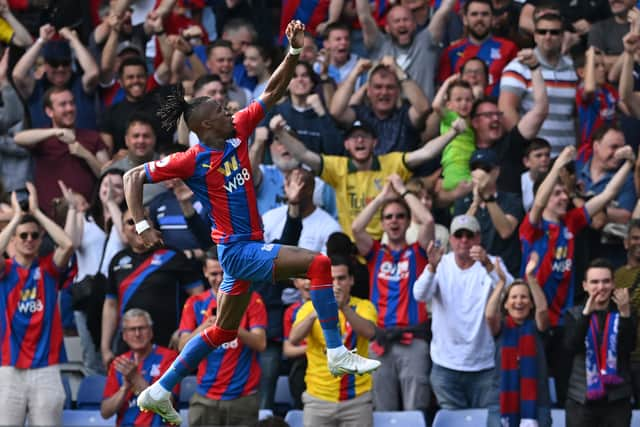 Sky Q and Sky+ customers can choose the 2 for 1 football offer. This option has no contract and just costs £18 extra on top of your existing deals. To upgrade to this, visit the Sky website.
Customers can also purchase the 'Complete Sky Sports Package'. This costs £25 a month and grants you access to All 11 Sky Sports channels, including Premier League, F1 & more. Available to Sky Q and Sky+ customers only, dependent on VIP tier.
Another option to watch the game is to sign up to Now TV. You can pay £11.98 as a one-off payment to watch the game. This gives you access to five Sky Sports channels for 24 hours from purchase.
Also, via Now TV, is the sports membership. This is currently at the discounted price of £25 a month for six months, down from £33 a month. This option gives you unlimited access to all 11 Sky Sports channels, and allows you to stream Sky Sports channels at up to three devices at once, and you can cancel anytime.
AFFILIATES DISCLAIMER: This article contains affiliate links. We may earn a small commission on items purchased through this article, but that does not affect our editorial judgement.