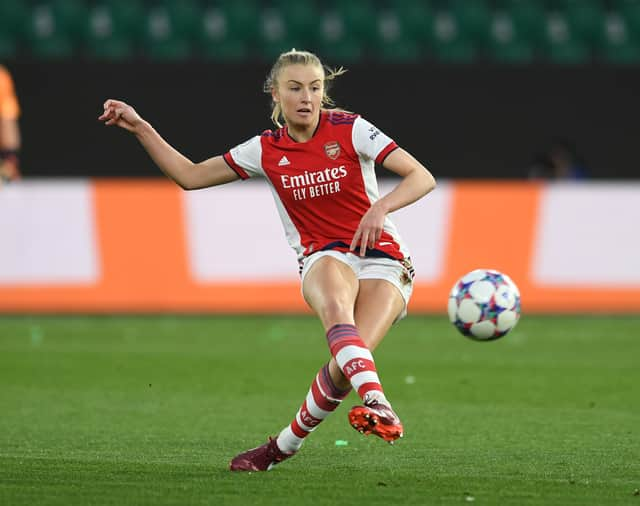 Gunners boss Jonas Eidevall made a storming start to his tenure as in his first campaign in charge, Arsenal took the title race to the final day of the Women's Super League season.
A win against West Ham United was not enough to secure the trophy, as Chelsea overcame Manchester United to clinch their third successive title.
Arsenal's second-placed finish, though, enabled them to fight for a place in the 2022/2023 UWCL - and their bid to qualify against the group stages begins with the first leg of their Round 2 tie against Ajax at Borehamwood on Tuesday evening.
Here's how the qualifying process works:
Which UK teams qualified for the UWCL this year?
From the Women's Super League, champions Chelsea qualified alongside second-placed Arsenal and third-placed Manchester City.
The Scottish Women's Premier League champions Rangers qualified, as did second-placed Glasgow City.
How does qualification work?
There are two rounds of qualification before the group stages. Where teams enter the qualification rounds is calculated by where they finished in their respective leagues, and where their league is ranked by UEFA according to performance.
Round 1 consists of a mini tournament between four teams and it was at this stage that Glasgow City and Manchester City, who each finished third in their respective leagues, entered the contest.
Glasgow were knocked out by a 3-1 defeat to Roma, while Manchester were eliminated by Real Madrid - neither side will participate further in the tournament.
Round 2 consists of a two-legged tie between teams drawn from a hat - second-placed Arsenal, and Rangers, who finished champions of a lower-ranked association competition will fight for a place.
Arsenal were drawn against Ajax, while Rangers were drawn against Benfica. Both teams will play their opponents twice, first home and then away, then the aggregate score from the matches will determine whether they progress to the group stages.
As champions of one of the top four association leagues, Chelsea progress straight to the group stage.
Who else is competing in Round 2?
Twenty four teams are competing for twelve places in the group stage of the Champions League. The full draw is as follows:
Zhytlobud-2 Kharkiv v Albania Vllaznia
SFK 2000 v Switzerland FC Zürich
Paris Saint-Germain v BK Häcken
Real Sociedad v Bayern Munich
Who will UK teams face in the group stage?
Chelsea are the only UK team who have already for the UWCL group stage, joined by Division 1 Féminine champions Lyon, Primera División champions Barcelona, and Bundesliga champions VfL Wolfsburg.
The group stage draw will take place on October 3, once the 12 winners who will progress from Round 2 qualifying have been determined.
Who has won the UWCL before?
In May, Olympique Lyon secured their eighth UWCL title with a 3-1 final victory over Barcelona.
Barcelona lifted the 2020/2021 trophy with a 4-0 final win over Emma Hayes' Chelsea.
The Blues' runners-up finish was the best tournament progress achieved by a UK team since 2007, when Arsenal lifted their only UWCL trophy.