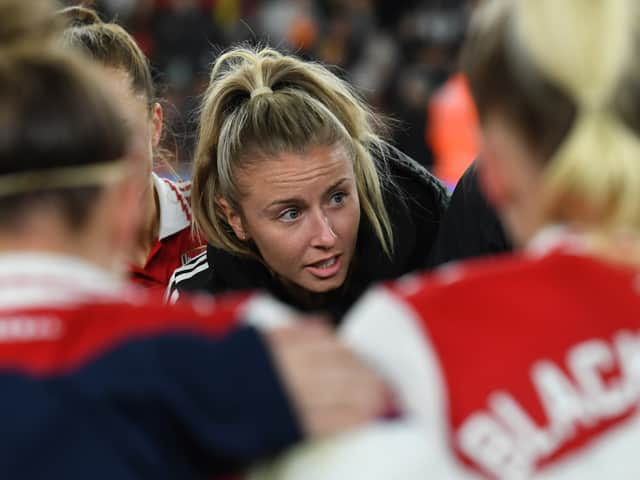 The England captain has been sidelined since mid-October, when she was forced to withdraw from international duties after sustaining a foot injury in training.
Gunners boss Jonas Eidevall subsequently revealed that the defender would be out for 'several weeks', which came as a huge blow to fans as Williamson's centre-back partner Rafaelle Souza is also out, recovering from a fractured metatarsal.
The pair's absence has gifted Lotte Wubben-Moy a way into Eidevall's starting line-up, with Steph Catley shuffling across from left back to join her at centre-half. Arsenal's performances have been mixed since the duo's injuries - in eight games, they have kept three clean sheets and conceded seven goals, notably thrasing Champions League holders Olympique Lyon 5-1 and letting their unbeaten Women's Super League record drop with a 3-2 home defeat to title rivals Manchester United.
On Tuesday, Rafaelle shared an Instagram post which hinted that Williamson has taken a significant step forward on her recovery journey.
Snapping a selfie with 18-year-old defender Teyah Goldie, who is currently working her way back from an ACL rupture, Rafaelle wrote: "Good sesh today.".
The Brazilian star then tagged Williamson and asked "where are you bro?" , suggesting that the 25-year-old may have rejoined team training after a stint working separately with her injured team-mates.
Gunners fans were also excited by a tweet shared to the Arsenal Women Twitter account which implied that Williamson could be on the verge of her 200th appearance.
@JunglePerrie: LEAH BACK ON SATURDAY CONFIRMED.
@GeorWan: She's in contention this coming weekend right.
@Leahs_awfcx: I cannot wait any longer.
@Monifacy77: OMG BRING OUR QUEEN BACK ON THE PITCH!!!
@Daydreaming27_: We Love You Leah!!!!
@JimMacfly: Get back on the pitch sooooooon! It's not the same without Leah!
On Saturday, Arsenal could reclaim the top spot with a Women's Super League win over Everton. The second-placed Gunners are tied on 18 points with Manchester United, and both sides have a game in hand over league leaders Chelsea, who better their tally by three points.