Currys electrical retailer has announced that it is trialling a new customer service robot in two of its London stores. The new 'Kettybot' will use AI technology to help customers locate specific items, and navigate their way around the extensive product rangesin the Oxford Street and Tottenham Court Road store.
The trial is being rolled out at four Currys stores across the UK, including London's Oxford Street and Tottenham Court Road stores. During the trial, KettyBot will be ready and waiting to greet customers at the door, allowing them to use the large touchscreen to select the product area they would like to visit. Once KettyBot knows what's of interest it will lead the way to locate what the customer is looking for.
KettyBots also can communicate with one another so if a store is split on two levels, one KettyBot will guide a customer to either the lift or stairs and the other will be ready and waiting to continue guiding them to their desired product area.
Ainsley Sykes, Head of Commercial Initiatives and Retail Design at Currys commented, "Initially created for use within the hospitality sector, we saw an opportunity for KettyBot to enhance our in-store customer experience for those who know what they want but need a little helping hand in finding it in store.
"So far, the trial has gone exceptionally well, with both customers and colleagues singing KettyBot's praises. We are very much looking forward to conducting a thorough review during the trial and looking at how we continue to improve and enhance our in-store experience."
So far, four UK stores including Currys in Birmingham, Preston and London's Tottenham Court Road and Oxford Street have trialled KettyBot.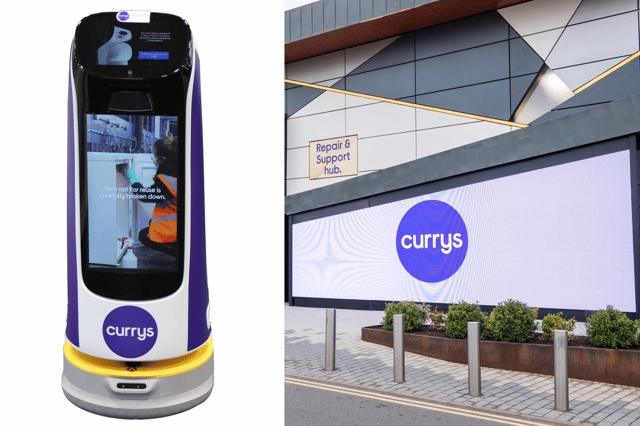 Richard Kirk, flagship Birmingham Store Manager added, "It's fair to say that both myself and the team were a little concerned when we heard about robot trials happening in-store. However, KettyBot is allowing us to spend much more time with those customers who need our expert advice when making their purchases, and the reaction from our customers has also been great to see."
It has not been confirmed how long the KettyBot trial will last so get to Currys quick if you want to see the robots in action!