Love Island 2023: Everything you need to know about eBay's fashion partnership
Love Island partners with pre-loved fashion shop eBay, here's everything you need to know
Watch more of our videos on Shots! 
and live on Freeview channel 276
Visit Shots! now
In 2021 Love Island made history by being the first TV show to partner with eBay as its preloved fashion sponsor. Putting eBay at the forefront for the best place to shop for sustainable fashion and making second-hand items cool again.
The Islanders have been looking super hot in this year's show. We spoke to Kirsty Keoghan, Global GM of Fashion at eBay for all in the inside knowledge and to find out exactly how the outfits are chosen by stylist Amy Bannerman.
Kirsty said: "Pre-loved pieces have been featured in every episode, with pre-loved clothing making an appearance in every episode. Inside the villa, eBay has provided a 'pre-loved shared wardrobe' available for the Islanders to choose outfits during the show, so it's been really great to see them opt for so many pre-loved pieces."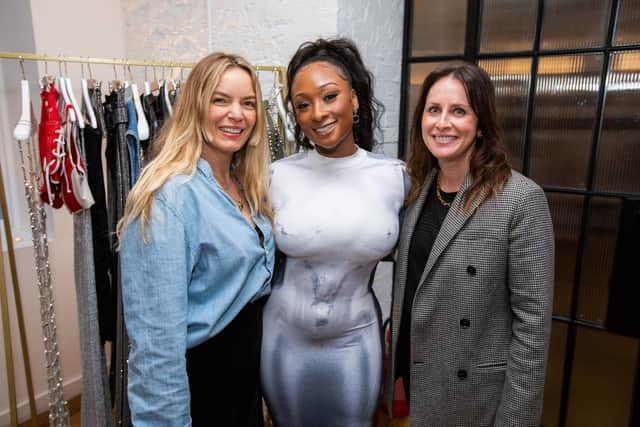 Kirsty added: "eBay does not provide the Islanders with swimwear and accessories, and the Islanders are allowed to bring in their own clothes into the villa."
How important was it to partner with Love Island? 
"With Love Island being one of the most talked about shows in Britain, we knew being the show's first pre-loved fashion sponsor would be the most impactful way to inspire the nation to consider their shopping habits and make more conscious fashion choices.
"It was so great to see the Islander's embrace pre-loved for the first time ever on the show last year and show consumers just how many incredible pre-loved pieces there are on offer. Since the partnership, we've seen a 1600% increase in searches for 'pre-loved clothes', as well as a 24% uplift in new circular fashion businesses joining the eBay marketplace - demonstrating the impact of the partnership."
Which of the contestants do you think has the best style so far?
"We've been thrilled to see all the Islanders this year championing pre-loved clothing and really taking advantage of eBay's wardrobe!
"We saw Tanyel wearing a blue Versace latex dress in the eBay preloved 90s party. Tasha wore this on her birthday last year, and it's just incredible to see how this can be re-worn by someone else and styled in a completely different way.
"Another great moment was seeing the yellow Versace co-ord being worn three times, with both Olivia and Ellie making a statement in the iconic piece that Tasha wore the year before. The co-ord's original seller bought it in 1993, so it's clearly such a well-loved piece with such a special story behind it. It really shows how much life you can have out of clothing with multiple owners!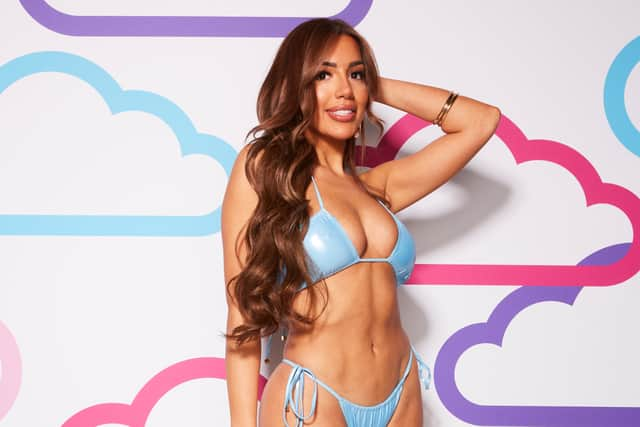 Do you have your eyes on any of this year's contestants to become an eBay ambassador after they leave the villa?
"So far, all of the Islanders are making preloved look great - it's going to be a tough call! Watch this space…
Will be seeing host Maya Jama in preloved items from eBay?
"Amy is not styling Maya Jama for series nine, instead her focus is on filling the bigger and better shared wardrobe in the villa with pre-loved looks for the Islanders to share and re-wear. Whilst Amy is not styling Maya, you may still see her wearing a mix of new and pre-loved items.
"This is a reflection of how many of us approach our wardrobes and we're hoping our partnership with the series helps encourage more viewers to consider pre-loved first the next time they look to buy something new."
What has been the reaction from fans of Love Island?
"The reaction has been so positive! Every episode we're seeing people calling out the amazing looks fans are seeing on the screen and praising pre-loved. That was really the main goal of the partnership, to get people talking and seeing that secondhand doesn't mean second best."
What was it like working with former Love Island star Tasha Ghouri on the first eBay collection?
"Tasha is a dream to work with because she truly understands our mission in changing perceptions towards pre-loved fashion. It's so amazing to see her sharing her views with her followers, and her eye for style is undeniable!  She is a fantastic role model for what the future of fashion looks like."
What made you choose to team up with Tasha?
"During her time on the show, it became evident that Tasha really championed pre-loved fashion. She was able to serve up amazing looks while demonstrating her authentic style and flair for fashion.
"Even before the show, Tasha was passionate about pre-loved clothing and loved going to thrift stores to find secondhand gems for her wardrobe. She just seemed like the right match to be the ambassador for our mission and show her followers how little swaps in our purchasing decisions can make all the difference."
Can you tell us about the selection process?
"Continuing on from the last series, we've worked with eBay's Pre-Loved Fashion Stylist Amy Bannerman to curate the pre-loved wardrobe. Amy lives and breathes pre-loved, and with an extensive background in fashion, she was a perfect fit to help us provide the islanders with all the stylish pre-loved fits.
"This series, the pieces Amy has chosen fall into 4 trends she's adopted for the wardrobe; Tutti Frutti, Business V Party, Dressed Up Denim and Heavy Metal. The trends have created a perfect combination of bright colours, classic party wear and tailoring, pre-loved denim and the return of metallic skirts and vintage T's!
"It's so great to see the large range of brands that have been chosen this year too, including Versace, Calvin Klein, All Saints and Reiss - it just goes to show the level of luxury you can get with pre-loved!"
What impact did eBay's partnership with Love Island last summer have on sales of secondhand clothes?
"Since the partnership last summer, we have seen a real lasting impact on the audience of the show. Conversations and attitudes changed towards pre-loved fashion, with there being 1600% more searches for 'pre-loved clothes' on the platform."
"As well as this, research from ITV revealed one in two (53 percent) of Love Island viewers aware of the eBay partnership said they'd bought pre-loved in the past three months. We are looking forward to seeing even more of an impact following this series."
Does Amy tell the contestants how the pieces should be worn?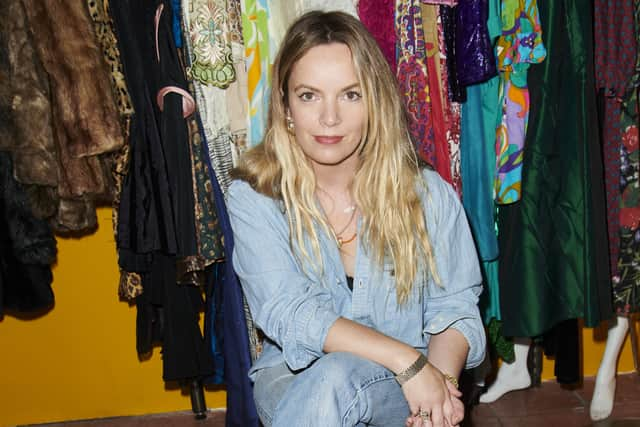 "Amy really encourages the Islanders' individual styles to shine through in the pre-loved pieces that go into the villa. Before the series starts, Amy meets with the potential Islanders to talk about their personal fashion tastes and style icons, she then takes this away to make sure she's sourcing pre-loved pieces that she knows each of the Islanders will love."
Which generation of consumers are most likely to shop secondhand?
"Secondhand shopping is popular amongst such a large range of age groups, but it seems to be primary Gen-Z who we see shopping mostly on the platform. We've found that those 18 to 34 have the highest average percentage of second-hand clothes in their wardrobe (22%), which is nearly double that of over 55s (12%). Pre-loved shopping's popularity amongst the younger generation made Love Island the absolute perfect fit for a partnership."
Why has eBay decided to continue working alongside Love Island?
"Following the impact that the partnership had last summer on changing the conversation around fashion, we wanted to continue to shift the dial and encourage more conscious shopping habits."
"If we can inspire consumers to buy or sell just one item of pre-loved clothing this year, we're heading in the right direction. With consumers being in the mindset of creating new habits early in the year, now is the perfect time for everyone to think about how they shop."
Shop pre-loved items and all the Love Iland fashion at eBay.com
Watch Love Island on ITV2 at 9pm