Jonnie Irwin receives well-wishes as he returns to A Place in the Sun after terminal lung cancer diagnosis
Jonnie Irwin, who is battling terminal lung cancer, was reunited with fellow A Place in the Sun host Jasmine Harman over the weekend.
Watch more of our videos on Shots!
and live on Freeview channel 276
Visit Shots! now
Jonnie Irwin, a popular television star who is currently battling terminal lung cancer, received well wishes from fans as he returned to A Place in the Sun on Sunday (March 5). The 48-year-old property expert was diagnosed with cancer two years ago, but it wasn't until last November he revealed the tumours had spread to his brain.
The father-of-three, who also hosts BBC One's Escape to the Country, took to Instagram on the weekend to say he was making an appearance at a live show in Manchester, as fans flooded his post wishing him well.
He said: "Selecting wardrobe for A Place In The Sun Live tomorrow (Sunday, March 5) in Manchester. It's an early start and as I'm not fit enough to run for the train at the moment I'm prepping the night before. My wife can't quite believe it! Cold weather calls for wool, wool, and more wool."
Jonnie also revealed he'd be reunited with fellow A Place in the Sun host Jasmine Harman. He wrote: "It's also a rare thing for Jasmine Harman and myself to both be there on a Sunday so please come along and we'll hopefully see you there."
His post has since garnered more than 8,000 likes and hundreds of comments. One follower wrote: "Have fun! Thanks to you and Jasmine we lived in rural Spain for six years and now nine months into French life. Thanks."
Another fan wrote: "Hope you had a great time Jonnie, wasn't quite so cold in Manchester today, but if you're there the rest of the week it's going to go really chilly, Wool is the best, works for sheep!!"
Jonnie recently revealed he was working on a "digital legacy" for his family – so that he can "speak" to them via video clips after he dies. He has a son Rex, three, and twins Rafa and Cormac, two, with wife Jessica, 40.
He made public his cancer diagnosis during an interview with Hello! magazine last November, saying he only had "months to live". He said wanted to make as many memories as possible with his family before the time comes.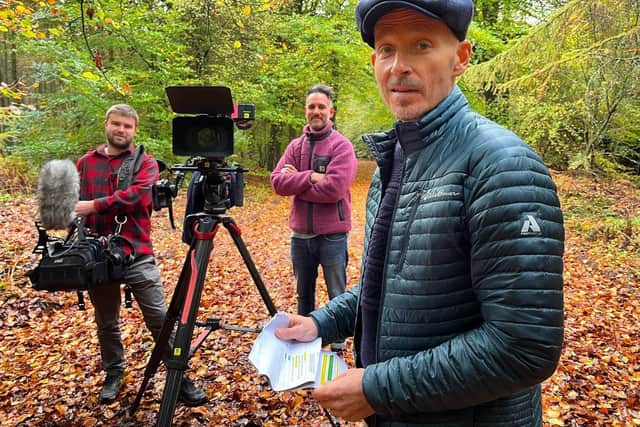 Jonnie revealed that he first got the first warning sign when he was filming for A Place in the Sun for Channel 4 in Italy in August 2020, as his vision went blurry while driving. Tests soon revealed that he had lung cancer which had spread to his brain.
He has also reportedly begun hyperbaric oxygen therapy, which is commonly associated with treating divers with decompression sickness. It is used to increase the amount of oxygen in the body and treat certain kinds of wounds, injuries, and infections.