Creamfields South will kick off today (May 26), promising a host of famous names on the line-up. The three-day music event will take place over the spring bank holiday weekend (May 26-28) at Hylands Park in Chelmsford, Essex.
Last year's line-up saw the likes of Calvin Harris, David Guetta and Carl Cox take to the stage, with some acts set to return for the 2023 festival. This year's festival highlights include Eric Prydz and Swedish House Mafia with Calvin Harris returning to the main stage as one of the headline acts.
The event's sister festival, Creamfields North, will take place later this summer in Cheshire with a number of Creamfields South acts attending the event. Tickets for the Chelmsford festival are still available if you're looking to secure last minute tickets.
But what's the full line-up for Creamfields South 2023 and what time will they perform? Here's everything you need to know.
Creamfields South 2023 - full line-up and set times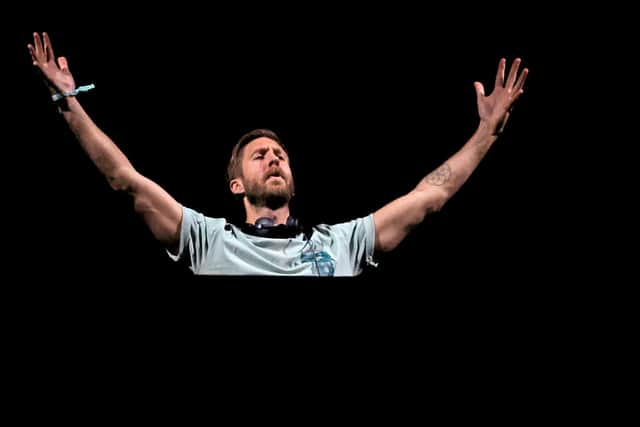 George Kafetzis - 3pm to 4pm
Counterpart - 5.15pm to 6.30pm
Example 6.30pm to 7.45pm
Becky Hill - 8.05pm to 9.05pm
Tiesto - 9.30pm to 11pm
Runway presented by Shein
Low Steppa - 3pm to 4.30pm
GW Harrison - 5.30pm to 6.45pm
Viviana Casanova - 6.45pm to 8pm
Solardo - 9.30pm to 11pm
Goody - 4.30pm to 6pm
Rennie Peters - 7pm to 8pm
George Mensah - 9pm to 10pm
Joshwa - 10pm to 11pm
Guy D'Angelo - 3pm to 4.30pm
CJ Sax - 4.30pm to 5.30pm
No Artificial Colours - 5.30pm to 7pm
Page Twins - 7pm to 8.30pm
Murfi - 9.30pm to 11pm
Sam Divine - 4.15pm to 5.45pm
Annie Mac - 5.45pm to 7.15pm
MK - 7.30pm to 9pm
Calvin Harris - 9.45pm to 11pm
Runway presented by Shein
Max Dean - 1pm to 2.30pm
Alisha B2B East End Dubs - 2.30pm to 4.30pm
Marco Farone B2B Richy Ahmed - 4.30pm to 6.30pm
Alan Fitzpatrick B2B Waff - 6.30pm to 8.45pm
Jamie Jones - 8.45pm to 11pm
Phonix - 1.30pm to 3.30pm
Christopher Coe - 3.30pm to 5pm
Franky Wah - 5pm to 6.30pm
Carl Cox hybrid set - 6.30pm to 8pm
Camelphat 8pm to 9.30pm
Nina Kraviz - 9.30pm to 11pm
Darren Donnelly & Jae Holmes - 1pm to 2.15pm
Notion - 2.15pm to 3.30pm
TS7 - 3.30pm to 4.45pm
Flava D - 4.45pm to 6pm
Holy Goof - 6pm to 7.15pm
Serum - 7.15pm to 8.30pm
Chase & Status DJ set - 8.30pm to 10pm
Hedex - 10pm to 11pm
Lee Ward - 12pm to 3.30pm
Rusti - 2.30pm to 3.30pm
Guy D'Angelo - 3.30pm to 4.30pm 
No Artificial Colours - 4.30pm to 6.30pm
Jesse James - 6pm to 7pm
Page Twins - 7pm to 8pm
Jimmy London - 8pm to 9pm
Hyslop - 12pm to 1.45pm
Rio Tashan - 3.15pm to 4.45pm
Sam Supplier - 4.45pm to 6.15pm
Joel Corry - 6.15pm to 7.45pm
Sonny Fodera - 7.45pm to 9.15pm
Swedish House Mafia - 9.45pm to 11pm
Runway presented by Shein
Edd - 1.30pm to 3pm
Danny Bond - 3pm to 4.30pm
Paul Nunn - 1pm to 2pm
LF System - 3.30pm to 5pm
Gorgon City - 5pm to 6.30pm
Kolch - 6.30pm to 8pm
Eric Prydz - 8pm to 9.30pm
Fatboy Slim - 9.30pm to 11pm
Shy FX - 5pm to 6pm
Andy Cain - 6pm to 6.30pm
Wilkinson - 6.30pm to 8pm
Jimmy London - 12pm to 2.30pm
Lee Ward - 2.30pm to 3.30pm
Lewis Wright - 3.30pm to 5pm
Mas Que Nada - 5pm to 6.30pm
Molly Mouse - 6.30pm to 8pm
Page Twins - 9pm to 11pm