The Made in Chelsea couple, who live in West London, have previously been open about their surrogacy journey and have spoken candidly about it on the popular E4 reality show.
Ollie Locke took to Instagram over the weekend with a photo showing a number of positive pregnancy tests. In the caption of the post, he described finding out he is set to become a parent as the "best message" that he and his husband had ever received.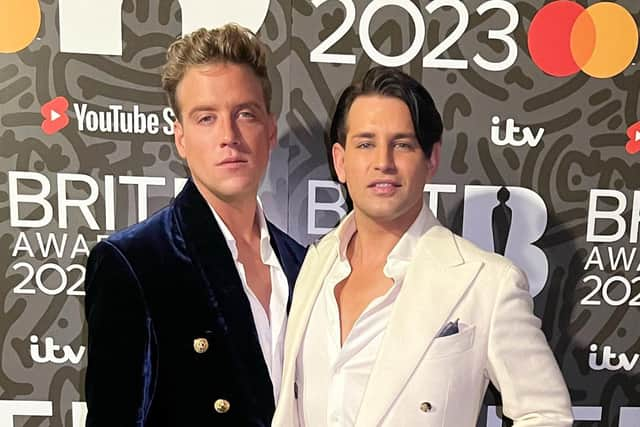 Ollie wrote: "Skiing in the French Alps on the first day the sun decided to come out and two weeks after our fourth embryo transfer, our beyond wonderful surrogate @bex7ward had cleverly been keeping a very big secret!
"It's said you should wait for two weeks before you test, however for most of us that is just agonising (although still very much advised!).
"However on a very sunny morning this message came through.. 'Oh by the way, have something to tell you' followed by that most beautiful image."
Ollie admitted that he is the "happiest" that he has ever felt, as he revealed that their surrogate, Rebecca Ward, is "13 weeks pregnant with twins."
The Lockes initially revealed their pregnancy news last week, while expressing their gratitude for the support they have received from fans and friends over the last three years of trying to start a family. In the joint-post, they shared a video featuring their baby scan alongside happy memories together, as well as personal moments with their surrogate.
"We are beyond delighted to finally be able to share the news that we are expecting twin baby Locke-Locke's into the world this summer!"
He wrote: "You have all been so wonderful throughout the last 3 years of us trying to have a family and we promise to share every step of this adventure with you all."
They also praised their "sensational" surrogate and called her "the most incredible human."
In December, Ollie and Gareth shared the heartbreaking news that their surrogate had suffered a third miscarriage during emotional scenes on Made in Chelsea's Bali Special. Ollie admitted that it had left him feeling "demasculated" that they have been unable to conceive so far.
In the episode, the pair opened up to their friends, Ollie said: "We just can't believe it's happened again." Whilst Gareth added: "This is our third time.It feels like every time you're going to have to redo it, it just feels like it's a bit, a step further away."
Ollie and Gareth have received a flood of messages from fans, friends and family congratulating them on their baby news.
Their Made in Chelsea co-stars showed love, with best friend Binky Felstead, who is also pregnant, commenting: "🎉🎉🎉🎉 IT'S HAPPENING BABBBBBAYYYYY's !!!!!! 💕💕🤞🏼"
Current Made in Chelsea stars, Olivia Bentley and Ruby Adler both posted love hearts "❤️❤️❤️❤️" to show their support for the parents-to-be.
Whilst former MIC star, Rosie Fortescue wrote: "Words can't describe how happy I am for you both ♥️♥️♥️"
The couple married back in November 2020, after they were forced to postpone the ceremony twice. Then after they were turned down from their dream wedding venue, they chose to have an intimate ceremony with just 13 guests at London's Natural History Museum.