A blind woman and her guide dog were thrown out of a north London Premier Inn after staff claimed she "didn't look blind".
Angharad Paget-Jones, 29, a data analyst from Port Talbot, south Wales, visited London for Bonfire Night on Saturday, November 5 with her partner and guide dog, Tudor.
But her trip took a shocking turn when staff spotted her assistance animal and - refusing to believe he was a guide dog - turfed Angharad's group out of her room.
And it came just hours after a similar experience in a Starbucks coffee shop - when a staff member shouted "no dogs" at Angharad, despite Tudor wearing a guide dog branded lead.
Angharad, a disability activist, even recently appeared in a Guide Dogs campaign aiming to stop visually impaired people being refused access to services because of their guide dogs.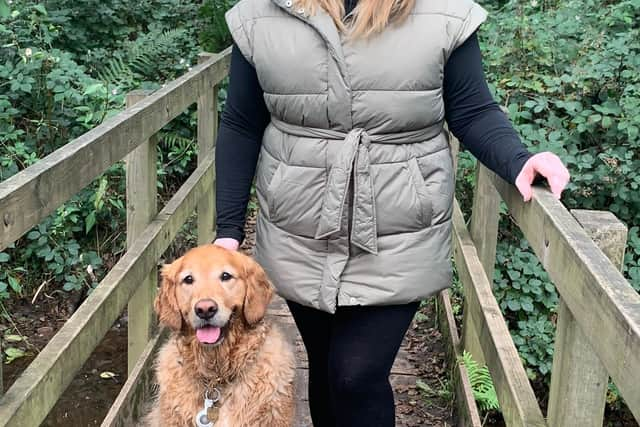 She said: "Like other guide dog owners I am no stranger to access refusals and I recently experienced two refusals in one weekend, with one being the worst I have ever had."
After arriving at the Premier Inn hotel, in Enfield, Angharad took her medication, which often makes her feel tired, and at 10pm her partner took Tudor outside with his guide dog lead on.
Staff on reception then asked him for proof he was a guide dog and Angharad said staff then entered her room, asking to see her documents, before security threw her out of the hotel.
"They wouldn't drop it and came up to the room and disturbing me as I was half asleep," she said. "No one was telling me what was going on, [and] I asked for a manager to help resolve the situation.
"I closed the door for my own modesty as I was just in a T-shirt and underwear, but the staff continued to demand evidence that Tudor was a guide dog."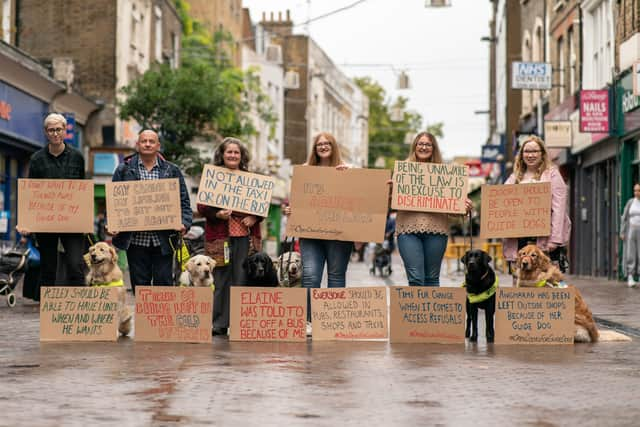 Security was then called to her room, Angharad said. "Staff used a master key to open the door, barging in demanding proof Tudor was a guide dog," she continued.
"I showed them the yellow book which outlines a guide dog and Tudor's harness has guide dog branding on, but they said this wasn't sufficient evidence and told us to leave.
"My partner ended up called the police, but they did nothing, and we got thrown out.
"It was late at night on Bonfire Night, and I am scared of fireworks.
"It was terrifying to then be outside in the dark as a blind person in a place I didn't know."
She added: "The staff were yelling at me, saying no dogs was the policy and that Tudor looked like a fake guide dog.
"I felt discriminated against, harassed and as though my privacy had been invaded."
The couple went to stay with Angharad's partner's parents - but she suffered a panic attack later that night, and said: "Days later I'm still impacted walking down the street thinking about what happened to me."
Premier Inn's policy states pets are not allowed on the premises "with the exception of assistance dogs".
There are almost two million people with sight loss or blindness in the UK - but guide dog owners are frequently refused access to services, according to the Guide Dogs charity.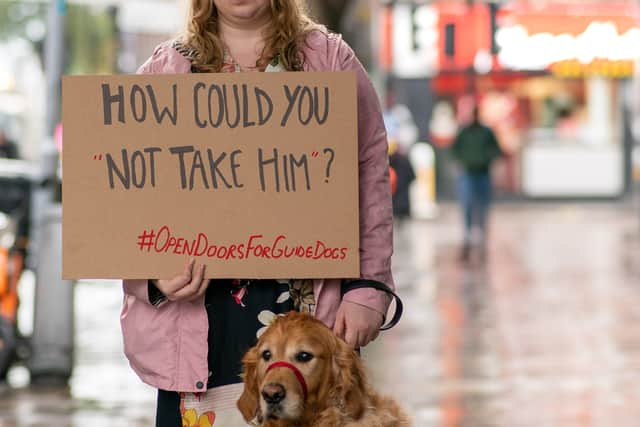 Blanche Shackleton, head of campaigns at Guide Dogs, said: "We are deeply concerned to hear Angharad's account of her experience. Not only does this incident sound frightening in the moment, it also left her experiencing a panic attack later that evening.
"The law is clear, and yet guide dog owners continue to experience access refusals, which are almost always illegal."
Research by the charity found 81% of guide dog owners have been refused access to a business or service.
While around 50% of respondents said they changed or restricted their plans because they were concerned they would be refused access because of their guide dog.
Blanche added: "The law needs to be stronger, so we're calling on the government to end access refusals and ensure that, unless there is a valid legal reason, that guide dog owners are welcome with open doors when they use businesses, shops and taxis."
Angharad experienced a similar incident earlier that day at Membury services Starbucks.
She went to use the bathroom with Tudor and rejoined her partner at the counter.
"He was about to pay when one of the staff members started yelling at me 'no dogs'," she said.
"I tried to ignore her as I knew she was breaking the law, but it always feels embarrassing to be singled out and feel everyone is looking at you."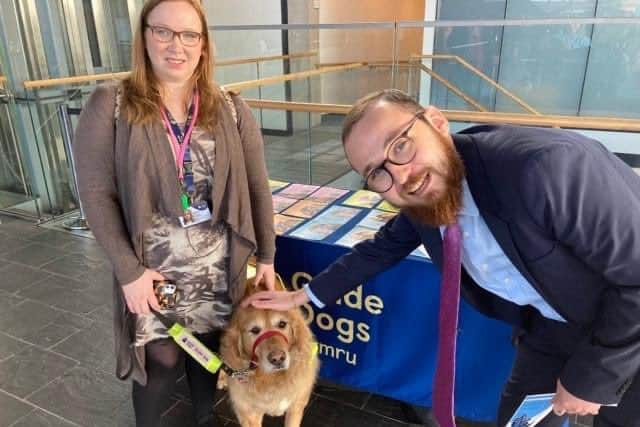 Writing on Twitter, about the hotel, she added: "They claimed I didn't look blind and [the ID] was obviously fake [and] bought online."
And Angharad told how the incident had left her feeling embarrassed and frightened.
She said: "This one really shook me up. I feel so fragile and aware of how vulnerable I am. It made me feel ashamed of my disability for the first time. I'm scared of hotel stays now."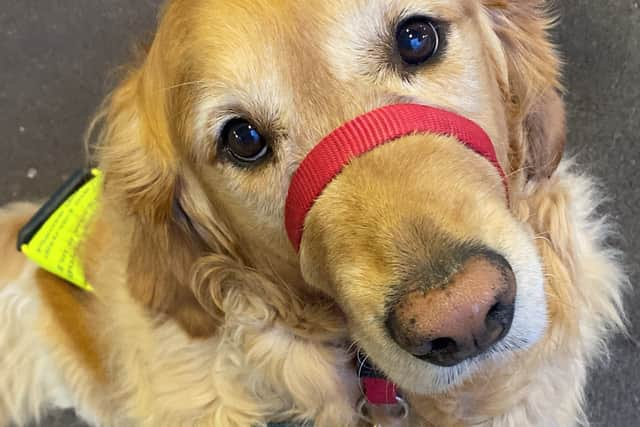 She added: "I was discriminated against, bullied and had my privacy stripped from me. Fireworks night is a night of mental anguish for myself, any other disabled people and dogs!
"It's one of the most horrific things I've ever had to go through."
A Premier Inn spokesperson said: "We take the needs and equal treatment of all our guests extremely seriously and all team members receive disability awareness training to make sure our guests all get the same warm welcome and enjoy a great stay.
"We were shocked and appalled to see the upsetting Twitter thread alleging that a guest was asked to leave one of our hotels in Enfield."
They added: "An urgent investigation is already underway with that site to find out exactly what's happened and we've reached out to the Twitter user to fully understand the circumstances of what has taken place and apologise for the upset caused.
"Whilst we cannot comment on the outcome of specific investigations, we take a zero tolerance policy towards discrimination."
Starbucks has also been approached for comment by LondonWorld.