The Met Office has issued London with a yellow weather warning for snow and ice. This comes as cold air from the Arctic moves over the UK, leading to a number of national severe weather warnings for snow and ice being issued.
The warning was issued shortly after 11.30am on Friday. The Met Office said some places could see as much as 10 centimetres of snowfall on Sunday and Monday.
"While confidence is very low at this stage, there is a chance that a band of sleet and snow could push into east and southeast England. This has the potential to give accumulations of 2-5cm quite widely, and perhaps up to 10cm in some places, most likely, but not exclusively, over higher ground such as the South Downs, North Downs and High Weal," reads the warning on the Met Office.
"In addition, ice is likely to form on untreated surfaces, mainly nearer to coasts where rain or sleet is more likely," the Met Office added.
Met Office Chief Meteorologist, Steve Willington, said: "As an Arctic maritime air mass settles across the UK temperatures will fall with widespread overnight frosts, severe in places, and daytime temperatures only a few degrees above freezing.
"However, the cold air from the Arctic will also bring brighter conditions, with some dry, sunny spells, particularly away from the coast and where winds are light it could feel pleasant in the sunshine. Some patchy freezing fog is also likely."
The weather warning comes as temperatures around the UK have started to plummet. London is set to enter at least a seven day period where the lowest temperature of the day will be below 0C.
Just this Monday (December 5) the Met Office and UK Health Security Agency (UKHSA) issued a level three cold weather alert at level three, classed as 'severe weather action' and just one notch below 'national emergency. The alert encourages people to stay warm and look out for those most at risk from the effects of cold weather as low temperatures and potentially severe overnight frosts affect large parts of the country.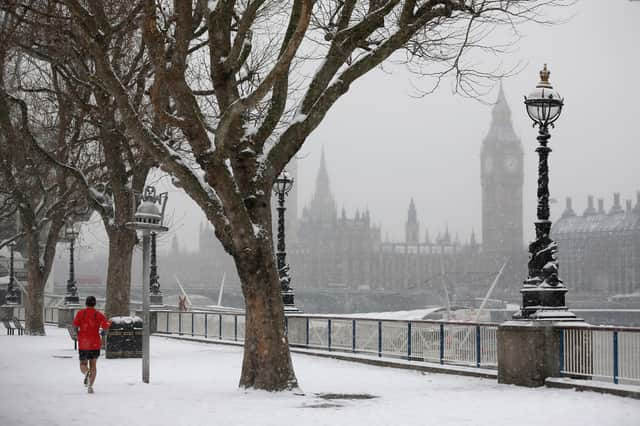 When does the yellow weather warning for snow and ice begin in London?
The yellow weather warning for snow and ice in London will come into effect on Sunday, December 11 at 9am. It will be in place for 24 hours, ending at 9am on December 12.
What to expect from a yellow weather for snow and ice
There is a small chance of travel delays on roads with some stranded vehicles and passengers, along with delayed or cancelled rail and air travel
There is a slight chance that some rural communities could become cut off
There is a small chance that power cuts will occur and other services, such as mobile phone coverage, may be affected
A small chance of injuries from slips and falls on icy surfaces
A small chance that untreated pavements and cycle paths become impassable