The RMT union has urged the mayor of London, Sadiq Khan to "reverse the managed decline" of London Underground, ahead of the strike action on Wednesday.
In a letter to the mayor, RMT leader Mick Lynch asked him to protect pensions, passenger safety and to halt job cuts on the London Underground.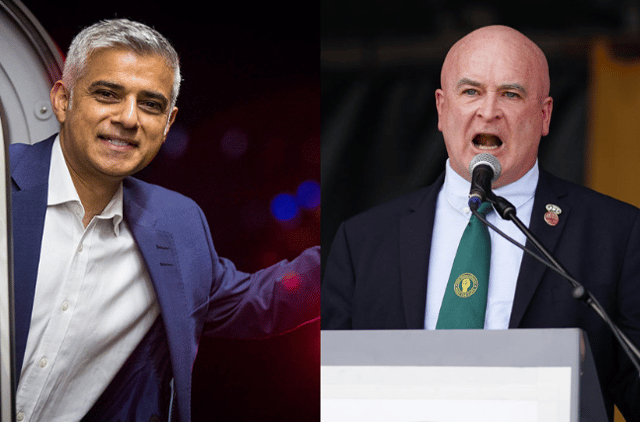 "As you know, at this moment, London Underground managers are imposing new rosters across our tube stations which are based on cutting 600 station staff jobs," Lynch wrote.
"In January, I wrote to you raising my serious concerns about the safety consequences of these cuts. Because they are now so short-staffed, managers appear to be mis-using waivers in order to override agreed minimum safe staffing levels at Tube stations.
"This means that stations are now opening with too few or, in some cases, no staff.
"I asked for a moratorium on these station staff cuts while an investigation took place, yet managers are proceeding with the use of the new rosters.
"I repeat my call for you to instruct LU managers to halt these cuts pending meaningful discussions with the RMT."
He concluded the letter by urging Mayor Khan to "change course and reverse the managed decline of London Underground".
"Join with RMT in campaigning for the funding that TfL needs to maintain the jobs, pensions and conditions of its workforce and the services it provides to the travelling public of London," he wrote.
A spokesperson for the mayor said: "No one wants to see strikes and the disruption across the country this week is particularly bad news for many of the capital's businesses who are struggling with inflation and the cost of doing business.
"The Mayor has repeatedly made clear that the Government's insistence on including a review into pension reform as part of the emergency funding deal for TfL was unwarranted and had the potential to lead to this kind of industrial action.
"TfL has done everything within its power to avoid strikes going ahead on the Tube and will keep working with unions to avoid further action.
"Ensuring London's transport network is appropriately staffed is a key part of delivering services safely. We take any concerns about safety extremely seriously and the Mayor is working with TfL to understand the RMT's claims."
Glynn Barton, TfL's chief operating officer, said: "I apologise to our customers for any disruption caused by Wednesday's industrial action.
"I urge the trade unions to call off this action and continue to engage with us to avoid disruption to our customers.
"Customers should check before they travel and we are advising them to expect very limited or no service on the Tube on Wednesday.
"The majority of TfL services will be running as normal but may be subject to last minute changes, including non-stopping at some stations shared with London Underground.
"Disruption should be expected on the Tube network into the morning on Thursday."
At present tomorrow's strike action is set to go ahead and it is expected to shut down the entire London Underground network.
Elizabeth line and London Overground services will be much busier than normal and queuing systems may be in place.
The London Overground, DLR and London Trams are expected to run as normal, but the closure of Tube stations may mean some services will be unable to stop at all stations or run to their normal destination.
Buses will run as normal but may also be busier than usual.
On the morning of Thursday March 16, Tube and Elizabeth line services are expected to start much later than normal due to the previous day's strike and could be disrupted throughout the morning.
Customers are advised to check before they travel.