Rail workers will be protesting outside several London stations on Tuesday, to alert passengers to the threat facing their local ticket offices.
It comes as part of an RMT day of action in response to the government and rail industry's plans to close nearly all ticket offices around the rail network.
RMT general secretary Mick Lynch said the planned closure of nearly 1,000 ticket offices risked exlcuding "huge swathes of passengers from the railways altogether".
"As well as thousands of job losses this will obviously create accessibility problems for the elderly, people with disabilities and overseas visitors who may not have English as their first language," he said.
"Without ticket offices and on station support, huge swathes of passengers could be excluded from the railways altogether.
"The planned closures are part of a wider industry attack on jobs and services at a time when the private rail industry is taking in excess of £500m in profits annually and many rail bosses have £1m plus pay packets."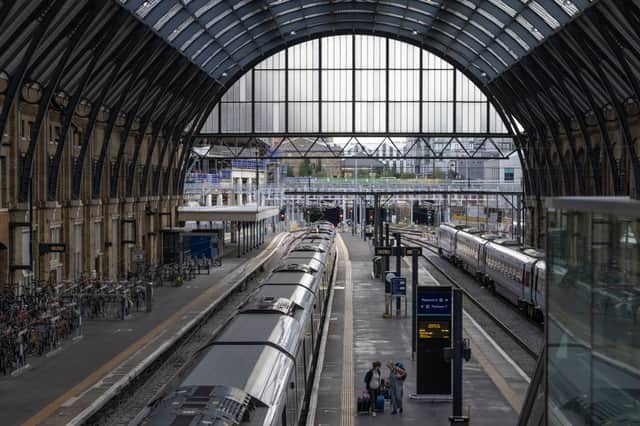 Campaigners will be at Kings Cross, Euston and other stations across the city on Tuesday, August 23.
RMT members, reps and activists will be alerting passengers to the threat to their local ticket offices and asking them to join in the campaign to protect ticket offices.
They are striving to send a clear message to the government and train companies - that passengers value ticket offices and want to see them protected.
A spokesman for the union added: "RMT believes that ticket office closures are about protecting the profits of train companies by further de-staffing the rail network.
"If these damaging plans go ahead, the railway will be less safe, secure and accessible."
The day of action is also being supported by the campaign group We Own It, an independent organisation which campaigns against privatisation and for 21st century public ownership.
We Own It director Cat Hobbs said: "Passengers want a human being they can turn to for help, not just a machine.
"Instead of abandoning passengers with a second-class service, this government should be making it easy for people to take the train."
A spokesperson for the Department for Transport said: "No decision has been taken on ticket offices, but the reality is they have seen a significant decline in use over the last decade, and resource could be better directed to where customers need it most.
"Passengers will always benefit from face-to-face assistance at train stations, what shape that comes in will be agreed upon so that it can deliver effectively for passengers, taxpayers and the railways."