Construction work on a major roundabout in east London will begin next week, improving cycle safety for thousands of Londoners.
Segregated cycle lanes and upgraded pedestrian crossings will be installed at Lea Bridge roundabout, making it easier and safer to walk and cycle at this key junction in Hackney.
The roundabout is the second phase of Cycleway 23, a new cycle route between Lea Bridge and Dalston.
Construction work will begin on Monday March 13 and is planned to continue until October.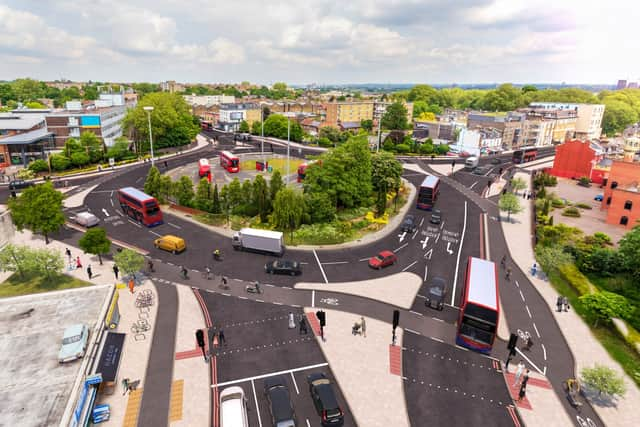 Last year, Transport for London (TfL) completed work on the first section of C23 in Millfields Park and further sections on Lea Bridge Road, could begin construction later this year, subject to funding.
The sections would form part of a major new walking and cycling corridor connecting neighbourhoods in Hackney and Waltham Forest.
C23 was supported in a public consultation in 2019 but was delayed by the pandemic and a lack of funding. It is hoped the entire route will be completed by spring 2024.
Will Norman, London's walking and cycling commissioner, said: ""I'm delighted that work will start soon on the transformation of the Lea Bridge Roundabout.
"This will deliver much-needed protected cycle lanes and upgraded pedestrian crossings, making it easier and safer for Londoners to walk and cycle at this key junction in Hackney.
"Enabling more Londoners to walk and cycle is at heart of the mayor's vision to build a safer, healthier, cleaner and more sustainable London for everyone.
"These crucial improvements across the city will help us to continue to build upon the boom in cycling we've recently seen, helping all cyclists keep safe on the roads."
Mike Hardaker, TfL's director of capital delivery, said: "We know how important safer cycling infrastructure is making people feel confident in getting around by bike and the changes here will make a big difference."
Cllr Mete Coban, Hackney's cabinet member for environment and transport, said: "These improvements to Lea Bridge Roundabout are another piece of the cycling jigsaw in Hackney."
TfL aims to deliver at least 39 km of new or upgraded cycle routes over 18 months, with the support of boroughs.
Projects on walking and cycling improvements at Streatham High Road and Manor Circus are also in the pipeline.