Sadiq Khan has unveiled plans for a new fast service bus network for London's outer boroughs.
The "Superloop" is intended to provide quicker journey times and would include the X140 connecting Heathrow and Harrow, and a more frequent route X26 connecting Heathrow and West Croydon.
New services are planned between North Finchley and Harrow, North Finchley and Walthamstow and between Walthamstow to the Royal Docks via Ilford.
Links are also proposed between Bexleyheath, Bromley and Croydon.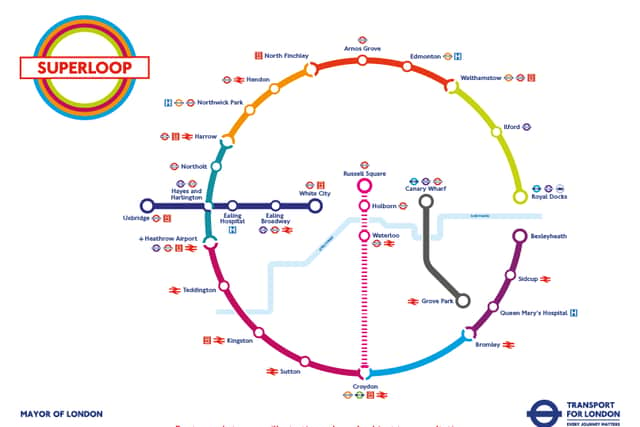 Mr Khan said: "When I made the tough decision to expand the ULEZ London-wide, one of my key commitments to Londoners was to improve transport links in outer London.
"Today I am delivering on that commitment as we announce the Superloop, the game-changing new network of express buses that will add over four million additional kilometres to our bus network in outer London, linking stations, town centres, hospitals and transport hubs.
"These new routes will make it much easier for Londoners to get around the capital, and help build a better, greener London for everyone."
Some of the benefits of the proposed Superloop will be introduced later this year, with the X26 doubling in frequency so that buses run every 15 minutes instead of every 30 minutes.
Alex Williams, chief customer and strategy officer at TfL, said: "The Superloop is the jewel in the crown in our plans to strengthen alternatives to the private car ahead of the ULEZ expanding London-wide and is a game changer for outer London.
"For the first time we will be bringing a number of the capital's town centres together with express orbital routes."
John Holland-Kaye, CEO of Heathrow Airport, said: "Bus routes are vital for thousands of colleagues and passengers travelling to Heathrow.
"We welcome the announcement of a Superloop service that will provide quicker connections and we look forward to continuing to work with the mayor to deliver vital connectivity in outer London'.
But Nick Rogers, the City Hall Conservatives transport spokesman, said: "Sadiq Khan's Superloop announcement is a Superflop, amounting to nothing more than a repackaging of existing routes and vague promises that will not be delivered before his Ulez expansion hits Londoners.
"This is a microscopic level of investment. The mayor's rushed plans have been thrown together in a panic, and do nothing to address the devastating impact of his Ulez tax."