Four London train stations are battling it out to be crowned as the best in the country.
Tolworth, Denmark Hill, Highams Park and Chingford have been shortlisted in the "World Cup of Stations 2023," a competition run by the Rail Delivery Group.
They are among 48 stations across England, Scotland and Wales that have been nominated to showcase community rail and the benefits railways bring to residents, the environment and the local economy.
Tolworth, which is managed by SouthWestern Railway, hosts a community and kitchen.
Denmark Hill, a Go-Via Thameslink station, has created artwork and run science and mathematics activities, including marble runs and mechanical displays.
Highams Park, a London Overground station managed by Arriva Rail, had its former parcel office transformed into a community room.
Chingford, which is run by Arriva Rail has been nominated as the former station master's house has been transformed into a heritage centre, while its basement may be converted into a mini arts centre and gallery.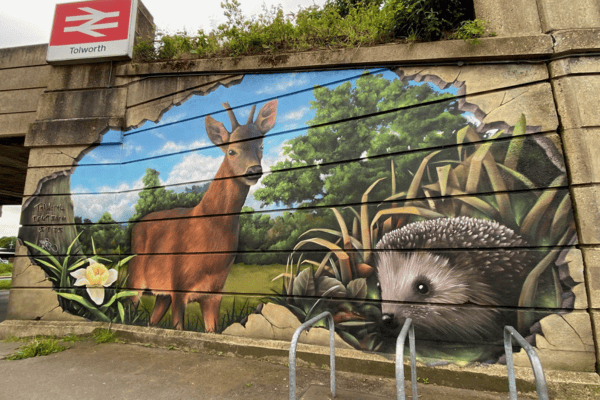 Tim Dunn, the rail expert and TV presenter, drew up the shortlist.
"I had the tricky task of selecting the shortlist of 48 stations - tricky, because it represents the work of 48 groups of chuffing ace volunteers," said Dunn.
"The time, energy and love each group gives is because of a love of our shared railway and their communities too. It might seem bonkers, but this competition showcases the hard work of hundreds countrywide, then amplifies and celebrates all in community rail. Remember: like a football World Cup, the winners each day need more and more support - in every battle, it's the one with the most votes who wins!"
Jacqueline Starr, chief executive of the Rail Delivery Group, said: "All of the stations are making a positive impact on their local community, whether that's supporting local businesses, being used for a social space or making the local environment better by being more sustainable, whatever they're doing to make a difference, we want to celebrate."
The winner is set to be announced on Friday May 26.