London is set to celebrate the arrival of Ramadan this week by illuminating one of their most popular streets, Coventry Street - from Piccadilly Circus to Leicester Square - with festive lights. Said to be the first ever Ramadan display to be gracing the street, many are already looking forward to its official switch-on.
Organised by non-profit organisation Ramadan Lights UK, the initiative is run on donations from the members of the public. The brain behind the project, Aisha Desai, Head of Community of Algbra, said this was an extension of her initial Ramadan lights campaign launched three years ago.
In 2021, Aisha and her team set up a smaller scale Ramadan festive display on Henley's Corner on the North Circular, Trafalgar Square to usher in the Muslim's holy month. This year, she said it would be "bigger and better".
She said: "As a child, a trip into central London to see the festive lights was an annual treat. My sister and I would lie in the back of the car looking at the lights through the sunroof. It was magical.
"As a proud Muslim, I wanted to bring some of that magic to my community. And three years ago that journey began. With all of your support, we have gone from strength to strength. This year we are looking to take it even further."
She said the organisation now needs a total of £75,000 that will go towards the production, installation and removal of the lights. She added: "With your support, we will be able to install these magical lights in time for the start of Ramadan, and they will remain in place until Eid! Please donate whatever you can. No amount is too small!"
Videos of the lights installation have since gone viral on TikTok and Instagram, with many praising London for its inclusivity and wishing it could be emulated by other Western countries. One commented: "This is love and acceptance. Other European countries should take example!"
When is the Ramadan lights switch-on in London?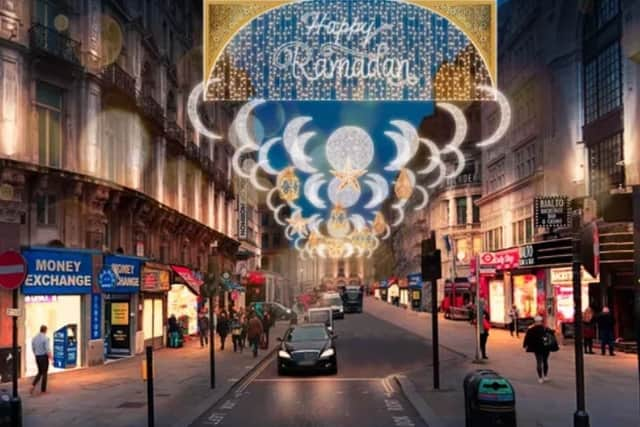 How long will the Ramadan lights be up?
Aisha, in her Instagram video, said the festive display will stay on throughout the month of Ramadan, for approximately 30 days, but they can't do it with the help from the members of the public.
Those who would like to donate to their campaign can visit their Go Fund Me page. They have so far collected more than £19,000.