London boroughs are in open revolt over mayor Sadiq Khan's planned extension to the ULEZ charge area.
A major row is brewing, with rebellious councils warned they risk their streets becoming "rat runs" should they stop City Hall and TfL bringing in the cameras and signage.
Just two thirds (16 out of the required 24) boroughs have signed up to the section eight agreements which permit enforcement equipment to be installed.
The Ultra Low Emission Zone, which will see drivers charged fees for using polluting vehicles within the new area, is set to be extended across the whole of outer London from August 29.
Drivers will be charged £12.50 a day for driving a non-compliant car, bus or van and can be fined for non-payment. The zone is in force 24 hours a day, every day apart from Christmas.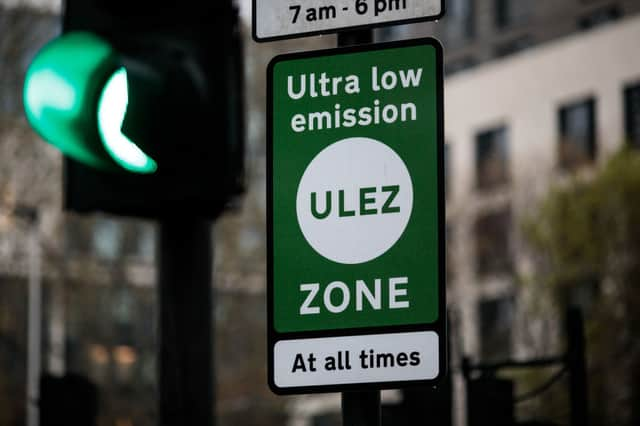 They vowed: "We will do everything in our power to stop it from going ahead."
Havering council leader Ray Morgon told the BBC: "We are in contact with other London Councils who oppose the ULEZ expansion to understand specifically how they intend to block or challenge the mayor's decision."
She said: "By not signing the section eight agreement we are sending a clear message to the mayor that he needs to reconsider… until that happens, we will not support the scheme."
The Standard has said it is understood that the eight boroughs yet to sign section eights are five Tory, two Lib-Dem and one Labour-run councils. TfL has declined to name the boroughs.
In response to the joint statement by Hillingdon, Harrow, Bexley and Croydon councils, a spokesperson for the mayor of London said: "Around 4,000 Londoners die prematurely each year due to toxic air, with the greatest number of deaths attributable to air pollution in London's outer boroughs. Children are also growing up across London with stunted lungs as a consequence of air pollution.
"Data collated by Imperial College London reveals that as many as 155 deaths each year are attributable to toxic air in Hillingdon, 118 in Harrow, 162 in Bexley and 204 in Bromley. An estimated five million more Londoners are expected to benefit from cleaner air when the ULEZ is expanded London-wide.
"The mayor has launched the biggest scrappage scheme yet - £110m - to help the Londoners who need it most, including charities, low income and disabled Londoners, micro-businesses and sole traders. This is on top of the £61million provided for previous scrappage schemes. The ULEZ is a very targeted scheme to get the most highly polluting vehicles off the roads. Four out of five vehicles seen driving in outer London are already ULEZ compliant and will not need to pay the ULEZ.
"Any money received from the scheme will be reinvested into running and improving London's transport network, including the expansion of bus routes in outer London.
"The mayor is aware of the letter from the four boroughs and TfL has responded. We will continue to work with all boroughs to help them prepare for this life-saving initiative for our city."