Sadiq Khan has been legally summonsed to answer questions on his £20bn budget for the next year.
The mayor is yet to make decisions over the expanded ultra low emission zone (ULEZ) and Transport for London (TfL) fare rises - which will impact his financial planning for 2023-24.
And London Assembly members - who hold him to account - have today (Thursday, January 5) voted to issue a formal summons mandating him to attend at 10am, on February 21.
It comes just weeks after the mayor was summonsed twice by City Hall's police committee for two interrogations over Dame Cressida Dick's controversial exit from the Met Police, making it Khan's third legal summons in less than a year.
Mayoral aides had declined a written request for Khan to attend, according to the Standard.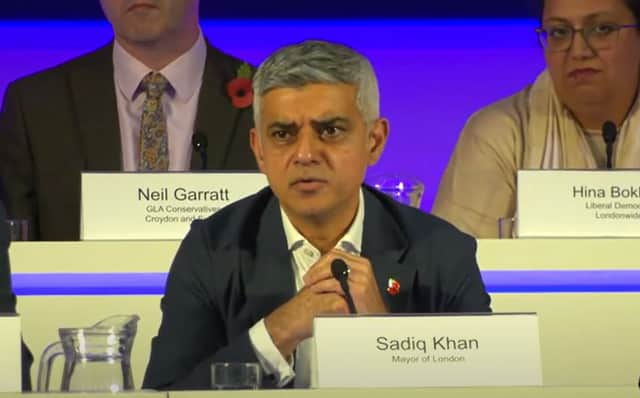 Khan's spokesperson said the mayor was "committed to the scrutiny process" and "always willing to update the assembly" on his plans and policies.
And City Hall sources stressed that he had already taken part in a three and a half hour scrutiny session - which two further budget scrutiny meetings to come.
It's understood the mayor has not yet received a summons letter from the assembly.
Budget committee chairman Peter Fortune said: "It is only right Londoners know exactly how their money is being spent, particularly when households are feeling the cost-of-living squeeze.
"We wrote to Sadiq Khan to invite him to two additional meetings further along in the budget process.
"As he was unable to commit to this, we felt it was appropriate to take the serious step of summonsing the mayor to answer further questions once these decisions have been made."
The move came after the mayor appeared at an almost four hour long budget meeting this morning during which he was quizzed on funding for the Greater London Authority (GLA) and bodies including TfL and the Mayor's Office for Policing and Crime (MOPAC).
Fortune added: "Our scrutiny of the mayor's 2023-24 budget has highlighted the serious financial challenges facing the mayor and the GLA.
"However, there are still many unknowns. He is yet to make decisions that will have material impacts on his 2023-24 budget, including on fares, council tax, green bonds and ULEZ.
"The importance of scrutinising the budget cannot be understated and we need to have the full picture while doing so."
This is the first time the budget committee has summonsed a mayor, and refusing or failing to attend as required by a summons without a reasonable excuse is a criminal offence.
Budget committee members are responsible for scrutinising the mayor's budget and are set to publish a report on the draft financial plans next week.
A spokesperson for the mayor of London, said:"The mayor is committed to the scrutiny process and is always willing to update the assembly on key policy issues and his plan to build a greener, safer and more prosperous city for all Londoners."
During the meeting today, Khan was criticised by Susan Hall, City Hall Tory group leader, who said: "It's a really bad look for you to be screaming at the government for more money."
In response to her comments, regarding housebuilding targets, Khan said construction had begun on more than 10,000 homes with the goal exceeded a year early.