Partygate: Everything the Sue Gray report says about the Met Police investigation
Sue Gray's report into lockdown parties reveals Scotland Yard is investigating 12 of the 16 gatherings in 10 Downing Street.
Watch more of our videos on Shots!
and live on Freeview channel 276
Visit Shots! now
An initial report led by senior civil servant Sue Gray into lockdown parties in Downing Street has been released today.
Prime minister Boris Johnson, whose leadership is faltering over calls to resign sparked by the 'partygate' crisis, has made a statement to the House of Commons, addressing MPs.
He told the House "it isn't enough to say sorry" and added: "I get it and I will fix it."
Labour leader Keir Starmer and Liberal Democrat leader Ed Davey called for his resignation in parliament today (Monday, January 31).
Mr Johnson urged them to wait for the findings of the Met Police's investigation.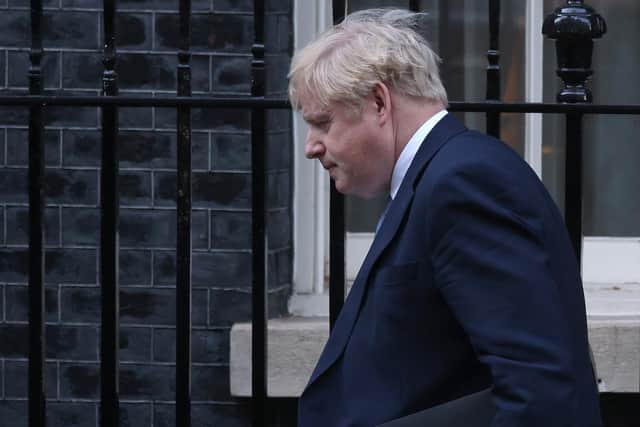 'Regular contact'
Ms Gray has said it is "not for me to make a judgment on whether the criminal law has been broken" and that "that is properly a matter for law enforcement".
However in her 12-page report, published via the government's official website, she said: "In line with my terms of reference I have been in regular contact with the Metropolitan Police as my work has progressed in order for them to take decisions on the gatherings under examination, including whether to launch their own investigation."
She added: "If during the course of the work any evidence emerges of behaviour that is potentially a criminal offence, the matter will be referred to the police and the Cabinet Office's work may be paused.
"Matters relating to adherence to the law are properly for the police to investigate and the Cabinet Office will liaise with them as appropriate."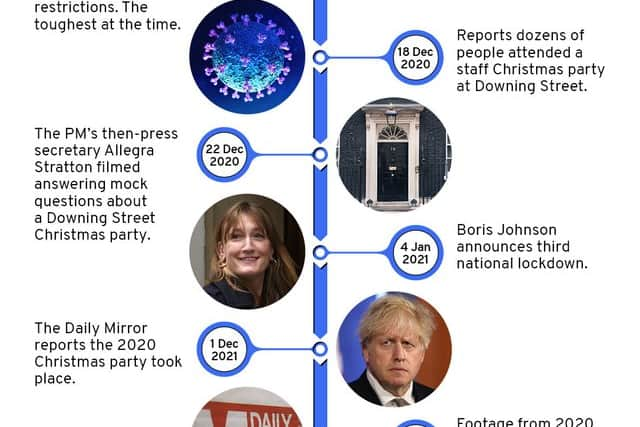 12 gatherings under police investigation
These gatherings "are not considered to have reached the threshold for criminal investigation", Ms Gray wrote.
May not 'take further action'
Despite this, Ms Gray has urged caution, and said this does not indicate that criminality took place.
She said: "No conclusions should be drawn, or inferences made from this other than it is now for the police to consider the relevant material in relation to those incidents.
"The police have also said this does not in itself mean that they will decide to take further action or that there has necessarily been a breach of the regulations."
Information 'securely stored'
Ms Gray has said the material she has compiled, has been retained and will be stored for safekeeping, and not provided to No10.
She confirmed: "I will therefore ensure the secure storage and safekeeping of all the information gathered until such time as it may be required further.
"I will not be circulating the information internally within government, it has been provided in confidence to the Cabinet Office investigation team and it is important that this confidence is maintained to protect the integrity of the process."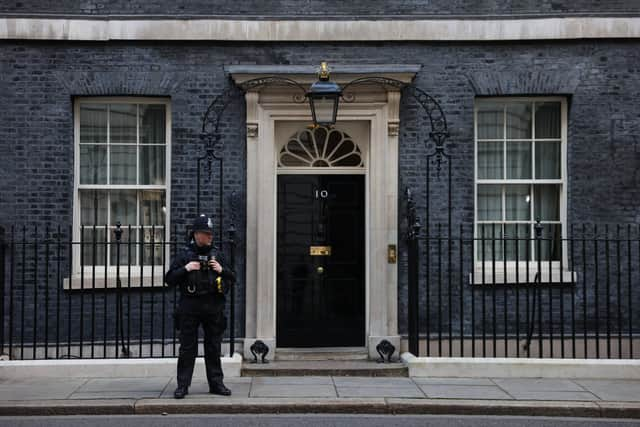 'Minimal reference'
The Met Police asked Ms Gray to make "minimal reference to the gatherings on the dates they are investigating".
She said: "Unfortunately, this necessarily means that I am extremely limited in what I can say about those events and it is not possible at present to provide a meaningful report setting out and analysing the extensive factual information I have been able to gather."
And she said she had decided "not to publish factual accounts in relation to those four dates" which the police are not investigating".
She added: "I do not feel that I am able to do so without detriment to the overall balance of the findings."
Consider 'whether it would be better to pause'
Ms Gray noted the "widespread public interest in, and concern about, these matters".
She says this led to her decision to "provide an update on the investigation and [set] out some general findings now".
In the report, she stated: "I did consider whether it would be better to pause, as provided for in the terms of reference, and wait until the conclusion of the police investigation before publishing anything.
"I have not made comment on whether individual gatherings were in line with the relevant guidance and regulations in place at the time.
"I did not judge it appropriate to do so given the police investigation that is now underway."
'Significant learning'
In her conclusion, Ms Gray says "significant learning" can be drawn from these events and there should be no delay.
She said: "A number of these gatherings should not have been allowed to take place or to develop in the way that they did.
"There is significant learning to be drawn from these events which must be addressed immediately across Government.
"This does not need to wait for the police investigations to be concluded."
Met Police statement
Following the publication of Ms Gray's report, the Met released a statement.
It said: "Following the publication of Sue Gray's update, we can now confirm that we will be investigating eight of the 12 dates considered by the Cabinet Office as part of their own investigation into alleged gatherings on Government premises during Covid restrictions."
The dates detetives are investigating are:
20 May 202
18 June 2020
19 June 2020
13 November 2020
17 December 2020
18 December 2020
14 January 2021
16 April 2021
It added: "As part of the investigation it is necessary for us to contact those who attended these events to get their account.
"As a result, the Met has requested that any information identified as part of the Cabinet Office investigation about these events, is not disclosed in detail.
"This request only applies for the duration of our investigation and does not apply to events we are not investigating.
"The reason this request is necessary is that in any investigation officers seek independent accounts from each individual, as free from the influence of others' recollections as possible.
"Officers would also seek to avoid providing details of their investigation in advance to those they contact, so that individuals are not tempted to shape their accounts according to what is in the public domain.
"This is a standard approach in all investigations to ensure that how people engage with our investigation is not prejudiced, and not a judgement on the individuals who attended these specific