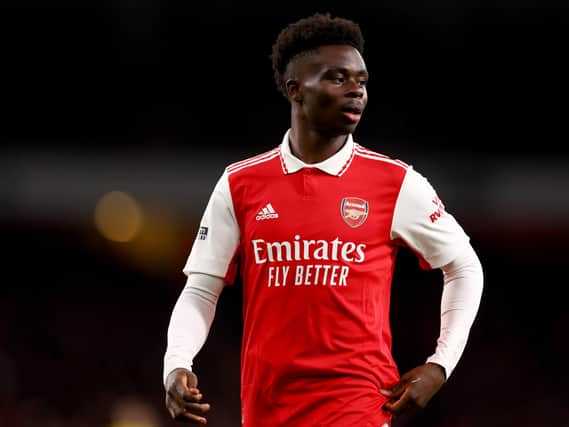 The Three Lions had their literacy skills put to the test in a special edition of Channel 4's Countdown hosted by Rachel Riley.
The hilarious clip uploaded to the Channel 4 YouTube page sees members of the England team take part in the hit-game show, with Saka, 21, sitting in the Dictionary Corner, verifying the submissions.
Leicester star James Maddison was first up against Tottenham's Eric Dier, and both players scored four points a piece for their words 'Heat' and 'Meat'.
Gunners star Saka was then asked if there were better alternatives and incorrectly pronounced the vitamin 'Thiamine'.
"Bukayo, could you have done any better than a four?" asked Riley.
"There's actually a vitamin they missed out on. 'Thee-a-min'," responded Saka.
"Thigh-a-mean," Riley replied with the correct pronunciation.
The moment prompted laughter from Maddison, Dier, and other England players in the background.
"How do you say it, Bukayo?" joked Maddison.
"So is that something you as a footballer have to take in order to take care of yourself?" asked Riley.
Saka then replied: "Yeah, it's important. It's important. That's why I expected them to know. I'm a bit disappointed."
The 21-year-old winger went viral on TikTok for his spelling school videos during the World Cup in Qatar in December.
The video series saw Saka challenge the likes of Jack Grealish, James Maddison, Declan Rice and Marcus Rashford to spell tricky words on camera.
Bukayo has been with Arsenal since the age of eight and made his first-team debut shortly after his 17th birthday in 2018.
He has been a star performer for the England team and played a big part in the Euro 2020 and 2022 World Cup Campaigns.
The footballer became the youngest player to appear for England in a major final in 2021.