Met Police officers have been sacked for sharing a photo of decomposed body on WhatsApp and for false imprisonment - while a former officer would have been dismissed for drug possession and having batons at home.
Sir Mark announced today a focus on neighbourhood policing, with a superintendent assigned to each borough.
Over the last week there have been a number of misconduct hearings.
WhatsApp photo of body and exam cheats
On Friday, a miconducted panel dismissed PC Bonnie Murphy, who asked to be sent an image of a decomposed body via WhatsApp.
The picture, of a deceased man who had died in non-suspicious circumstances, was sent to her in June 2020 by former PC Jamie Lewis, so she could show a relative.
Lewis would have been dismissed too - but he was sacked in November 2021 after being convicted of misconduct in public office for taking inappropriate photographs at the scene of the double murder in Wembley of sisters Bibaa Henry and Nicole Smallman. He was sentenced to two years and nine months in prison.
The hearing also heard Lewis helped PC Murphy cheat a driving exam in March 2020 by sharing copies of previous exam material and answers.
The photograph of the body was taken at the scene by another officer on his personal phone. He claimed he sent it was to allow PC Lewis to assess whether it would be appropriate for probationary officers to attend the address for their own learning in dealing with sudden deaths.
The PC attended a misconduct meeting on August 16 with a senior officer. Misconduct was not proven, but he was required to take part in reflective practice in relation to sharing the photo with a colleague, and sharing it using social media. The officer apologised to the family at the meeting for the distress caused.
Assault and false imprisonment
On Monday PC Sam Grigg, who had pleaded guilty to assault and false imprisonment, was sacked.
Grigg, previously attached to the South West Command Unit, pleaded guilty at Kingston Crown Court on January 5. He will be sentenced on February 10.
At a misconduct hearing he was found to have breached the standards of professional behaviour in respect of "discreditable conduct".
The offences took place in Twickenham on December 2, when he was off-duty.
He used tape to unlawfully restrain a woman, whom he knew, against her will. Having left her for a period of time, he cut her in the process of freeing her with a knife.
The incident was reported to police on December 6 and Grigg was arrested the same day. He was charged and suspended on December 8.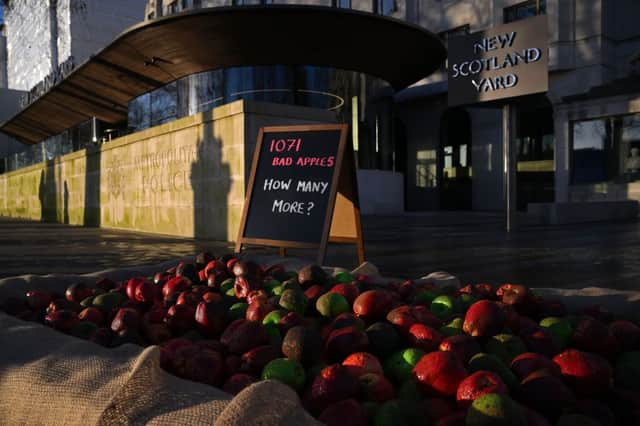 Drugs and batons
On Monday a hearing concluded that former PC William Holyoake, who had been attached to the South West Command Unit, would have been dismissed from the Met had he still been serving.
Holyoake, who had been attached to the South West Command Unit, was found to have committed gross misconduct following a hearing which concluded on Monday, 30 January.
On September 7 last year, Holyoake pleaded guilty at Surrey Magistrates' Court to two counts of possession of a cannabis and four counts of possession of an offensive weapon in a private place - police-issue batons.
He was sentenced at Westminster Magistrates' Court on October 4 to a community order to complete 60 hours of unpaid work within 12 months.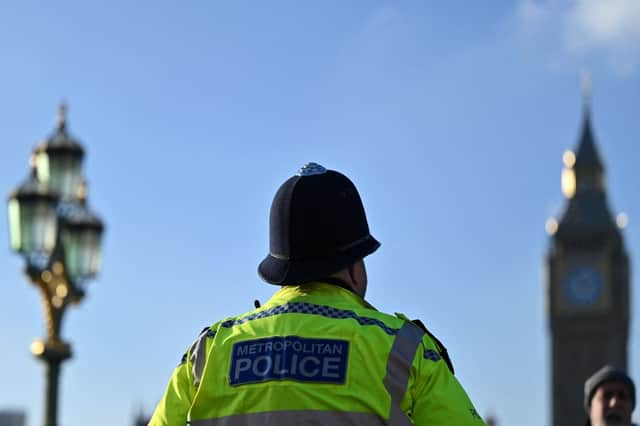 'Progress'
Sir Mark Rowley told the London Assembly last Wednesday: "You will see progress from us step by step as we chase more trust, less crime and higher standards.
"We must improve dramatically for London. But lifting the stone and revealing painful truths will not be resolved overnight."
He continued: "I mustn't pretend it will do and I hope you understand it can't be done. We have to prepare for more painful stories as we confront the issues that we face.
"We've discussed before the systemic failings that create these problems of these officers that corrupt our integrity.
"As we put in more resources; more assertive tactics; as we're more open to people reporting incidents from within and without the organisation; as we more determinedly take on these cases, it will tackle the problems we face but it won't be rapid and it will be painful."
Lewis, Grigg, Holyoake and Murphy are barred from joining the police and fire services.
Neighbourhood policing
The Met has announced that, from March, each of London's 32 boroughs will be led by a superintendent.
Currently, a superintendent leads each of London's 12 basic command units.
The move is part of the "turnaround plan" for the force, published earlier this month.
Assistant Commissioner Louisa Rolfe said: "Our neighbourhood teams will earn trust and confidence within their local communities through developing strong links with them.
"They will work with Londoners and use their policing powers to proactively identify, investigate and solve local crimes, antisocial behaviour and local problems.
"Communities need to feel involved in determining their policing needs and to know that the Met is there to solve the problems that matter to them - and we will be."
This year, the Met plans to recruit 500 more police community support officers (PCSOs).
Sadiq Khan said: "I've been very clear about the vital need to strengthen ties between the police and London's communities. It must be the cornerstone of the Met's efforts to keep crime down and rebuild public confidence.
"I welcome the Met's plans to have a senior officer leading neighbourhood policing in every borough, creating better and more visible relationships with all the communities it serves."