Several people have been charged following scenes of disorder surrounding a police operation in Dalston this weekend.
Officers are continuing to investigate after protestors and police clashed in the Ashwin Street and Kingsland High Street area on Saturday, May 14.
It comes as police confirm a video of part of the incident, showing an officer striking a man on the ground, has been referred to the Independent Office for Police Conduct (IOPC).
While the Met's watchdog unit, the Directorate of Professional Standards (DPS), have also reviewed the clip.
Dalston Cllr Zoe Garbett said she saw police "using batons to hit people" and throwing them to the ground.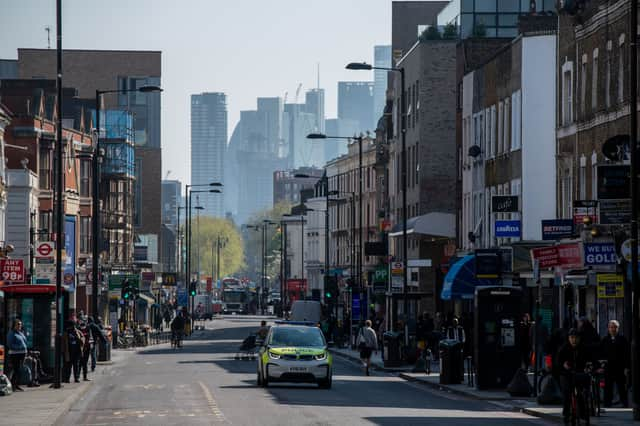 The incident followed a pre-planned operation, which police say was targeting e-scooters and moped crime, during which a crowd gathered and became hostile towards officers.
A Met Police spokesperson denied reports that the action related to immigration offences.
One man wanted for immigration offences who made off from police was detained, Scotland Yard said, with enquiries into the circumstances continuing.
Nine officers were assaulted during the incident while another was racially abused, the force has said.
Now, a total of eight people have now been charged with criminal offences, the Met said.
Richard Clare, 29, of Fairford, Gloucestershire, is charged with assault on a police officer, while Emily Gray, 22, of Whitley Bay, Tyne and Wear, is charged with three counts of assault on an emergency worker.
Daniel Lowe, 38, of Seven Sisters Road, is charged with obstructing police and assault on an emergency worker and Gregory Horne, 24, of Elmhurst Crescent, Barnet, is charged with obstructing police and two counts of assault on a police officer.
They appeared at Thames Magistrates' Court on Monday, May 16, and were bailed to appear at Wood Green Crown Court on Tuesday, June 7.
Chelsea Humphrey, 19, of no fixed address, was charged with obstructing police and appeared at the same court.
She was bailed to appear at Stratford Magistrates' Court on Friday, July 22.
While Dumitru Hurmuzache, 42, of Tewksbury Terrace, Enfield, is charged with a racially aggravated public order offence.
Adam Parker, 22, of Whitechapel High Street, Tower Hamlets, is charged with two counts of obstructing police.
And Domenico Sergi, 43, of Forest Grove, Hackney, is charged with threatening behaviour contrary to Section 4 of the Public Order Act
They are bailed to appear at Thames Magistrates' Court on Monday, May 30.
A woman arrested on suspicion of affray was released without further action.
Det Ch Supt Marcus Barnett, chief of police for Hackney and Tower Hamlets, said: "These charges follow a routine, planned operation to protect the public which escalated into significant disorder where officers were assaulted and came under attacks whilst making an arrest.
"Police officers are aware that any use of force must be proportionate and reasonable, and they understand that their actions will be scrutinised as they go about their work.
"It is only right that officers are accountable for their actions and we will fully support the IOPC's assessment of the material that has been referred to them."
But he added: "It is important to remember that footage shared on social media only shows a small part of a much larger and more complex incident or series of incidents.
"Eight people have been charged with criminal offences as a result of their actions on Saturday evening. Enquiries continue in respect of any other offences.
"I cannot comment further since legal proceedings are now active."
Hackney mayor Philip Glanville said the council "strongly condemned" the "unacceptable" disorder and that the council had no prior knowledge of the police action.
He said: "We do now know that it was an attempt to tackle the rising numbers of street robberies and other offences being committed by people on scooters and bikes - but not linked to delivery drivers - in the area.
"However, over the next few days we will be working with the police to establish to understand what went wrong and how the situation escalated.
"We have been working closely with the local community, and delivery drivers and their union, in and around Ashwin Street for months in order to try to resolve the recurring issues in the area relating to parking and facilities, and we will be speaking to them to make it clear that we were not involved in this operation nor should we conflate it with our work."
And he added: "The council is committed to rebuilding community trust and confidence in the police, but incidents like the one on Saturday night can undermine that process."
Green Cllr Garbett condemned the police action.
She said: "I witnessed the police forcefully pushing people and throwing them to the ground or out the way and using batons to hit people.
"It felt incredibly unsafe and threatening particularly with the police charging into the crowd and at individuals.
"There was a lot of disruption and distress caused for residents living, shopping and working in the area.
"I did not see and there did not appear to be any attempts by the police to de-escalate the situation."