The Traitors star Alex Gray has been at the heart of the drama since episode one when she chose not to disclose her relationship with another contestant to the rest of the group. Since then, fans of the show have been curious to know more about the presenter and actor.
Alex Gray and boyfriend Tom Elderfield entered BBC One's brand new 'whodunit' game show set in a castle in the Highland region of Scotland. The pair tried to keep their connection under wraps in order to secretly work together for a chance to win up to 120,000.
Tom Elderfield failed to keep the relationship a secret after the contestants started to pile more pressure onto Gray. The faithful became suspicious of Gray after three contestants, including herself, were put on trial by the traitors with one to be murdered by the end of the following day.
While Tom's journey on the show came to an end, it is looking likely that Grey could go all the way given recent revelations, but who is the London-born contestant?
Who is Alex Gray from The Traitors?
Alex is a 26-year-old presenter and actor from London. When asked about what she'd bring to the show, she revealed her friendly and adventurous personality as a core strength to getting through the competition.
Outside of the show, the presenter has worked for the likes of ITV, UEFA Champions League, Reebok and more. Gray has interviewed notorious celebrities and sports stars such as Yungblud, Ruud Gullit, and Love Island's Dr. Alex.
Grey also achieved a first in Psychology from University College of London and believes her qualification has helped her gain a deeper understanding into other humans. When speaking about applying to be on the series she said: "Ultimately, I'm a performer, I'm a presenter, I act. I'm really trying to drill it into my head that this is a game, this is a performance."
Who is Tom Elderfield from The Traitors?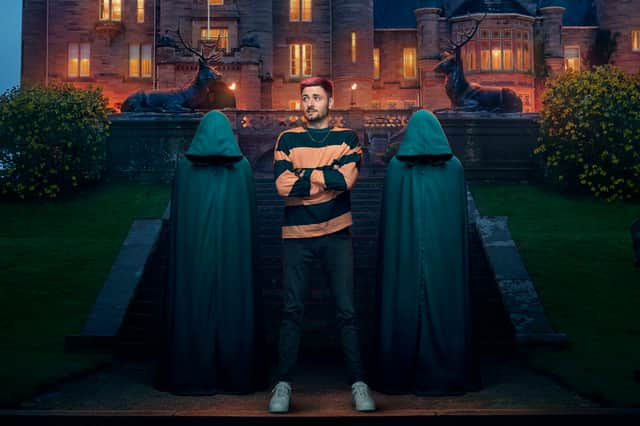 Tom is a 24-year-old magician from Buckinghamshire. He won the Magic Circles's young close-up magician of the year award and has performed to numerous well-known celebrities.
He also offers his services as a magic consultant and a presenter. When asked about being on the show, he said he will bring a unique form of thinking and didn't think he would let the emotions of the competition get to him.