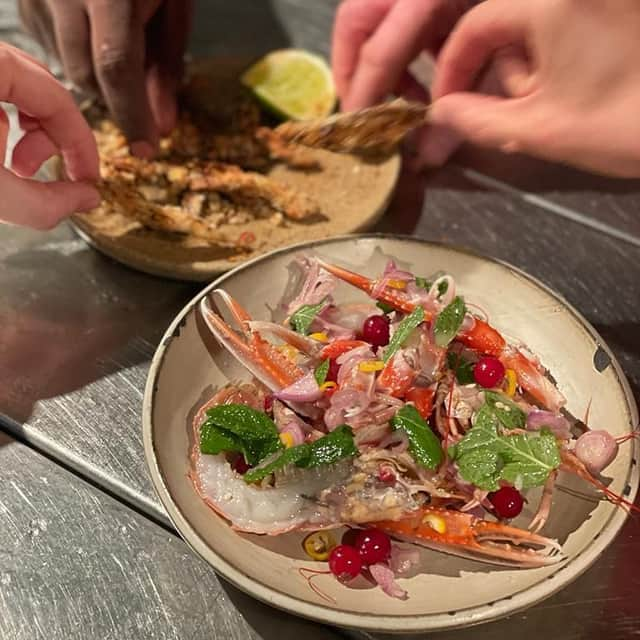 Kiln in Soho, which was previously voted best restaurant in the country. Credit: Kiln/Instagram
As Londoners we are spoiled with choice for restaurants and world class gastronomy.
Whatever cuisine takes your fancy, there are several options available throughout the city.
For Thai food lovers, there is an abundance of choice, whether you're craving a simple pad Thai dish or a classier monkfish curry, you can guarantee your tastes will be satisfied.
From street food to gastronomic cuisine, here are 10 delicious Thai restaurants in central London we think you should try.
Kiln
58 Brewer St, London, W1F 9TL ££
Customers can sit at the far counter to watch chefs prepare fiery Thai food in clay pots, woks and grills.
Banana Tree
103 Wardour St, London, W1F 0UG ££
At Banana Tree, Indochina is the culinary inspiration and dishes from Malaysia, Vietnam, Singapore and Thailand all make an appearance on the menu.
For starters customers can enjoy steaming bowls of laksa soup or Thai calamari.
While main dishes include red salmon curry and blackened monk noodles.
Rosa's Thai Cafe Soho
48 Dean St, London, W1D 5BF £
Founded by Anglo-Thai husband and wife team Alex and Saiphin Moore, Rosa's is a Thai café group that has grown from a street-food stall in Brick Lane in 2008 to 11 London restaurants.
The menu features all of the Thai staples, including massaman curry and pad Thai.
For those of you nostalgic for your gap year days you can wash down your meal with a Chang Thai beer.
The Great Thai Restaurant
14 Riding House St, London, W1W 7HR ££
For street food lovers, the Great Thai Restaurant offers Londoners a taste of contemporary Thai cuisine, using the best fresh local produce, combined with herbs, spices and Asian vegetables.
Two Point Thai
26 Crawford St, London, W1H 1LL ££
Customers can enjoy an array of delicious starters including steamed vegetable dumplings and deep fried corn cakes.
Main courses include a spare rib noodle soup and soft shell crab dishes.
Patara
15 Greek St, London, W1D 4DP £££
Menu highlights include chor muang- flower-like handcrafted caramelised chicken and peanut steamed dumplings, prawn and chicken satay, coconut braised beef and lamb shank massaman.
Thai Square Trafalgar Square
21-24 Cockspur St, London SW1Y 5BN £££
Looking out over one of London's most famous landmarks, the flagship branch of Thai Square is a great choice for lunch or dinner near Trafalgar Square.
Formerly the impressive Norwegian embassy, Thai Square is a seriously spacious venue full of traditional artefacts, heavy wooden doors and sprays of exotic flowers.
Menu highlights include kang kua lobster, black cod with miso sauce and tamarind duck.
Greyhound Cafe
37 Berners Street London W1T 3LZ ££
From fashion to food, in 1980 a fashion label Greyhound first opened its door in Bangkok by four partners who were passionate about fashion and living.
In 1998, the brand expanded to food by opening the first Greyhound Café, turning Greyhound from fashion to a cutting edge lifestyle brand.
Just like Bangkok, Greyhound Café offers a taste of modern contradictions & chilli fish sauce, flair with creative chaos where east meets west, traditional meets international, street meets couture, all fused together in a beautiful chaotic way.
Menu highlights include crab and corn pops, fried whole sea bass with spicy mango salsa and mixed mushroom pad thai.
Inamo Covent Garden
11-14 Hanover Place, London, WC2E 9JP ££
Inamo fuses unique interactive technology and pan-Asian dining in stylish surroundings.
The menu is centred around sharing and features sushi dishes, including the signature dragon roll and succulent Asian tapas such as crispy popcorn prawns, spicy tom tam salad and a selection of dim sum.
The join also serves Chinese and Japanese dishes like Sichuan chicken, sizzling black pepper fillet of beef, and aubergine katsu curry.
East Street by Tampopo Fitzrovia
3-5 Rathbone Place, London,W1T 1HJ ££
The menu is made up of the best pan-Asian street food and signature dishes from across east Asia, with a variety of flavours and textures found in each of the countries featured.
Menu highlights include nasi goreng, chilli lemongrass stir fry and spicy Thai salad.