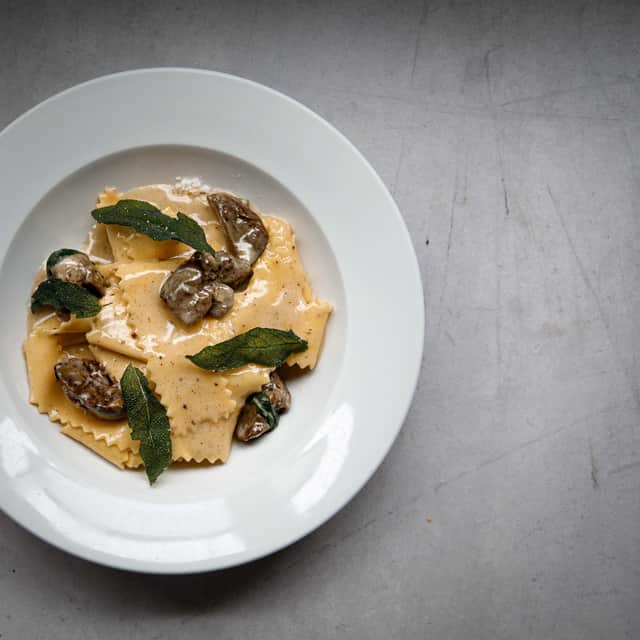 Bancone's pappardelle with chicken liver, brandy and sage butter. Credit: Jade Nina Sarkhel
Bodacious Italian actress Sophia Loren famously said: "Everything you see, I owe to spaghetti."
Although we may not all be blessed with her curves, we can all agree with Sophia about how great Italy's best-loved export is.
Ask any group of people what one food they'd eat for the rest of their lives if they had to pick and at least half will say pasta.
This devastatingly simple combination of eggs, flour and wheat is one of the most versatile foods out there.
What else works so well in both hot and cold climates?
Or is as beloved by toddlers feasting on fistfuls of penne as it is couples seductively slurping spaghetti in ocean-view restaurants?
In recent years, London has upped its pasta game with a spate of excellent-value eateries that hand make it fresh daily using top notch ingredients.
So what are the secrets behind their perfect pasta?
Co-founder Will Elner tells us more: "We start with 00 flour and Italian eggs with rich yolks, which give our pasta its distinctive sunshine yellow colour.
"Our dough is very firm and once cooked it remains firm and has a good bite to it.
"In our chicken liver, brandy and sage butter recipe we use pappardelle because these thick ribbons are perfect for coating in the rich, glossy sauce.
"This dish is indulgent yet wonderfully simple – the perfect treat on a cold evening."
Find out how to make this delicious, autumnal pasta dish below.
Pappardelle with chicken liver, brandy & sage butter
35ml Olive Oil
Salt to taste
200g Butter
2 tbsp Condimento Morbido or Sweet White Wine Vinegar
50ml Brandy
8 Sage Leaves
60g Grated Parmesan
400g Fresh Pappardelle 
320g Chicken Livers 
To start, fry four sage leaves in olive oil and set aside for the garnish later.
Cook the chicken livers in a hot pan with olive oil and the remaining four sage leaves, adding salt to taste.
Once browned and gently cooked through, add the brandy and allow the alcohol evaporate.
Next add butter, condimento morbido and some hot water to create an emulsion.
Once this has come together, cook the pasta in hot salty water leaving it al dente .
Add the cooked pappardelle to the pan with the chicken livers for a few minutes and grate in some parmesan for a creamy texture.
Serve while still hot. Grate a generous serving of parmesan and top with the fried sage leaves.