A woman who was diagnosed with advanced stage four bowel cancer at 36 is swimming 40 miles to celebrate turning 40 – a milestone she didn't think she'd reach.
Following three years of cancer treatment, Natalie Woodward, who lives in Hackney, has set herself the challenge of swimming a mile a day for 40 days before her birthday on July 8.
At one point, after a major operation on her pelvis which involved the removal of multiple organs and part of her spine, brave Natalie had to learn how to walk again.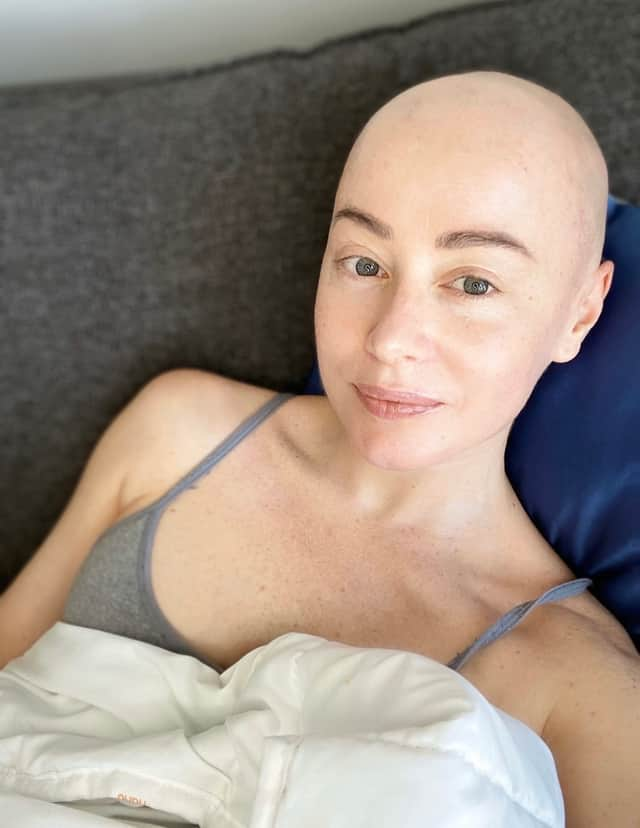 And now she is swimming a mile-a-day to raise money for St Mark's Hospital in the process.
"I'm a stage four patient and I've lost my four best friends from the online community of people with cancer that I'm part of," Natalie says.
"They never made it to 40, and we were diagnosed around the same time.
"I think about them all the time, but especially coming up to this milestone, you just think: 'I'm still here and able to do things. While I am, I want to make the most of it.'
"With my diagnosis, I'm so lucky to still be here."
Natalie, who had worked as a professional dancer before becoming a primary school and dance teacher, began noticing symptoms a few years before her diagnosis.
It began with stomach problems, which were put down as food intolerances by doctors.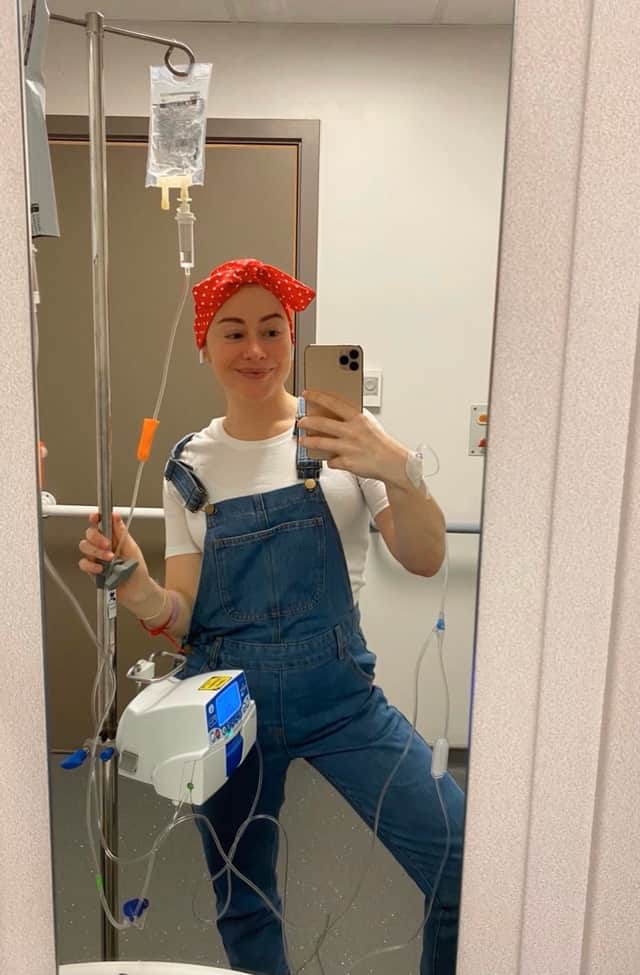 When she was 35, however, Natalie began to feel unwell regularly, exhausted and dropping weight because it hurt to eat.
Eventually, she couldn't eat or go to the toilet, and she had severe pain in her lower back.
Natalie was referred to a cancer screening as a precautionary measure by her GP.
"When I went in for my colonoscopy, I actually saw my cancer on the screen," says Natalie.
"I saw that it looked awful, and the whole tone of the room changed. I knew then that it was cancer."
By the time the official results came in a week later, Natalie had mentally prepared herself.
She was diagnosed with stage four bowel cancer, with two tumours that were pushing on the organs in her pelvis and her spine, which was what was causing her lower back pain.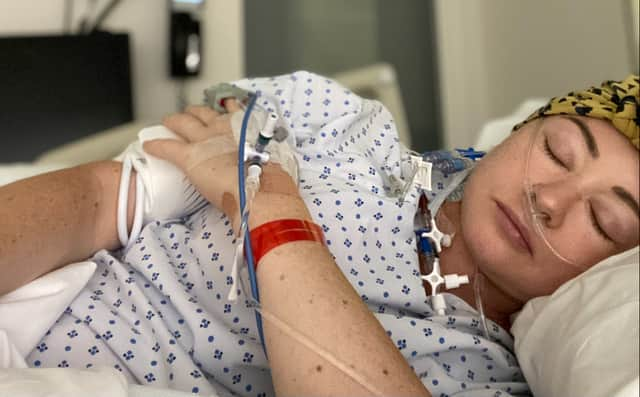 "Nobody wants to hear that they've got cancer, but in a way, I was actually relieved to know, because I knew that there was something seriously wrong," says Natalie.
"My symptoms were put down to other things because of my age.
"You don't expect someone who's 36 to have bowel cancer, but it can happen at any age."
Initially, because the tumour was touching her spine, Natalie was told that her condition was inoperable, although she was eligible for chemotherapy and radiation.
"I felt quite positive that my cancer would respond … I think I was a bit naïve as to what that really meant at the time," she says.
"It sank in midway through my first treatment.
"I kept asking them about my prognosis, and I could tell that they didn't want to promise me anything.
"For them it was 'cross your fingers and hope', but I didn't really understand all of that.
"I was like: 'this is going to work for me'. I just kept thinking about that."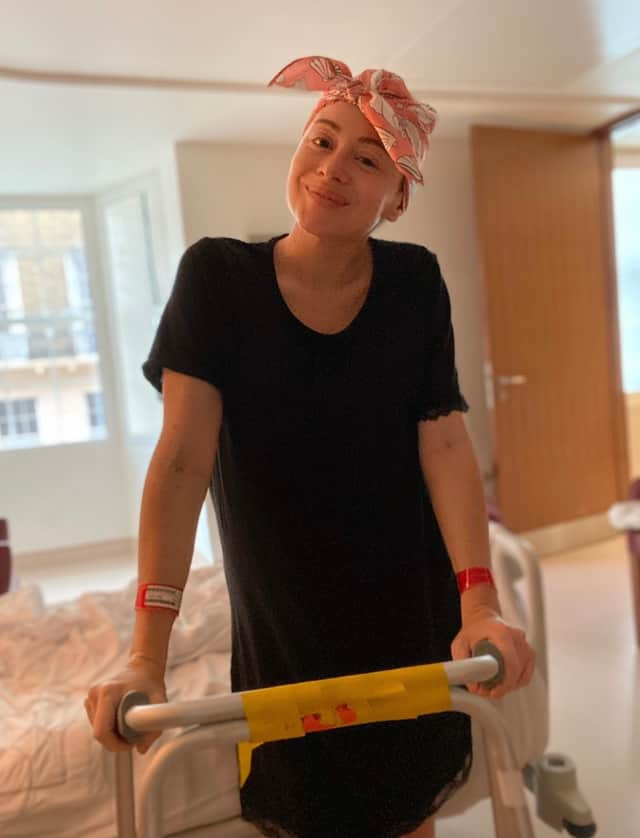 Bowel cancer is one of the most common types of cancers in the UK.
According to the NHS, almost 90% of people diagnosed are aged 60 or over – although, as Natalie points out, it does also affect younger people.
For Natalie, treatment began with a stoma, followed by chemo and radiation.
This was initially successful, but Natalie's cancer soon grew back aggressively, and she was referred to St Mark's Hospital, a specialist service, for Pelvic Exenteration Surgery.
This is a major operation which involves the removal of multiple organs in the pelvis, including the reproductive organs, lower bowel and part of Natalie's spine.
Because of the pandemic, Natalie's surgery was delayed by eight months, meaning that she had to have more chemo to reduce the cancer's growth during that time.
When Natalie finally had her surgery in August 2020, she was not able to have anyone there with her, or to visit her afterwards due to Covid.
"I'll never forget waking up – it was a 12-hour operation and they'd taken half my body out," she said.
"My first thought was: 'I'm not going to see any of my loved ones for at least a month…It was traumatic.'"
Natalie's surgery had complications, and she was in and out of hospital for the next six months.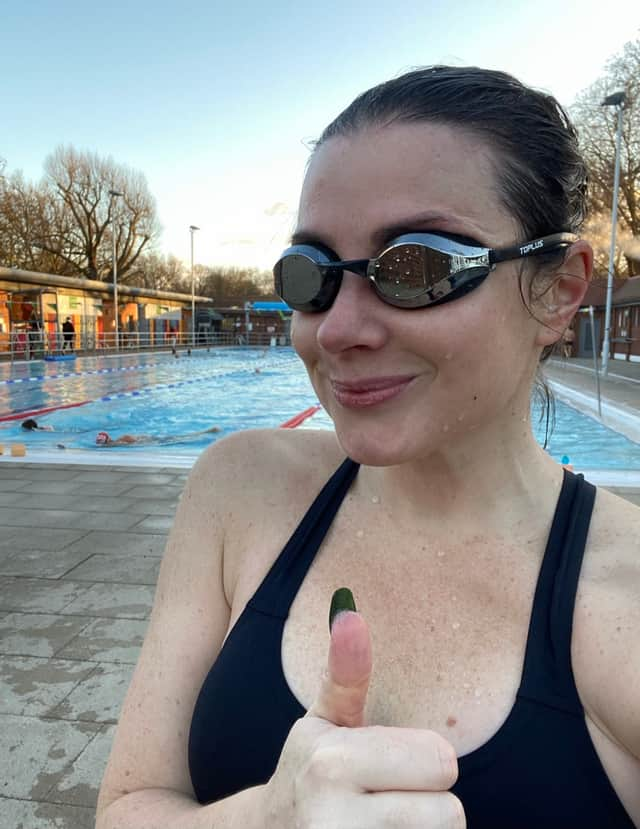 She had to learn how to walk again, to regain her strength.
Now, almost two years later, she is still recovering – working out what she can and can't do.
She continues to self-catheterize, has a stoma bag and lives with chronic pain.
Thankfully, however, there is now no evidence of cancer in her body – something that was previously inconceivable.
Natalie started swimming again in the summer of 2021 and is using her 40-mile (1288 length) swim to raise funds for St Mark's Hospital.
"I'm literally only here because of them, so I thought it would be nice to raise some money for them. It's nothing compared to what they've done for me," she says.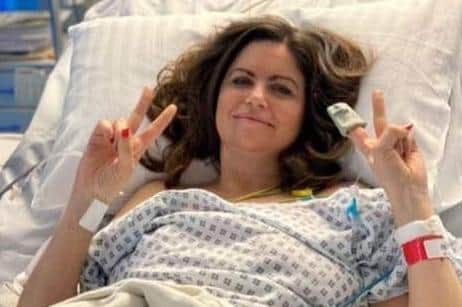 She'll be splitting her swims between London Fields Lido and the London Aquatics Centre, swimming a mile a day (34 lengths) to celebrate her 40th birthday.
"It feels amazing – it's funny, because most of my peers who are turning 40 are having a meltdown, and I'm the opposite. I'm so happy," says Natalie.
"I feel some survivor's guilt too. It's such a complex mixture of emotions, but mainly I'm just unbelievably grateful.
"My life after the surgery is not easy – it's different to my life before, where I was super fit – a normal 36-year-old, really.
"Now I have all this stuff to contend with, but I actually think I enjoy life more. It means more, after something like that."
Recently, there has been a move to raise awareness of bowel cancer in younger people, with Deborah James, one of the most high-profile campaigners, having been awarded a damehood this month.
This week, Radio 1 DJ Adele Roberts was pictured on the cover of Women's Health with her stoma bag.
"I shared my story because I want people to know they're normal, and to be active in seeking help if anything changes," says Natalie.
"There's been a lot of people who are dying from shame – being too embarrassed to go and get checked out."
She adds: "Enjoy life – don't wait for something bad to happen before you truly appreciate what you've got.
"I've had to learn a really hard lesson, but if I could give that gift to anyone else, of seeing how amazing life is, but not having to go through all the pain to get to that point, I would."