Staff at LondonNHS hospitals have been left outraged over a TikTok showing head office staff enjoying a £1,400 coffee machine and an "abundance of snacks" in the style of a recent social media trend.
The corporate headquarters of Barts Health NHS Trust has posted a video to their social media accounts showing their facilities which include snooze pods, digital screens with Tube timings and stunning views across east London including the O2 arena, accompanied by jaunty music - inspired by other videos on the platforms.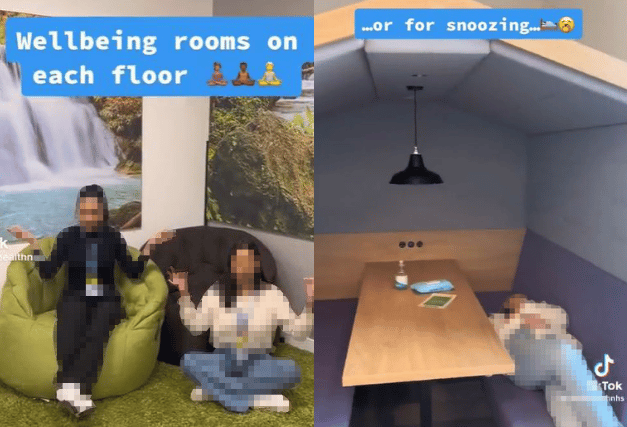 But nurses and junior doctors have voiced their anger at the inequality - with front line medical staff sharing how they've had to "change in the toilets" and eat "£3 cold chips" before sleeping in a "freezing cold mess room" during a night shift.
Barts has now removed the video from its channels and apologised for causing offence. It's understood the clip, shared on TikTok and Instagram, was intended to boost recruitment into office-based roles at the trust.
Captions on the 37-second long clip read: "Things in our office that just make sense… wellbeing rooms on each floor… Sage Barista Touch coffee machines… an abundance of snacks… that can be locked away… views for days…. digital screens with live London Underground updates… curved screens… pods for working… or for snoozing."
The video, which has since been deleted, sparked a strong response from medics when it was posted to Twitter by doctor and campaigner Simon Fleming.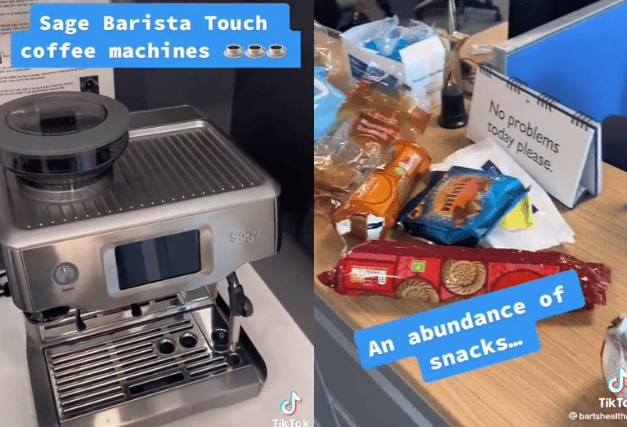 He said: "Dear NHS Barts Health. Really?? REALLY?! Some reflection is perhaps is order."
Medical union the British Medical Association (BMA) junior doctors branch said it was "sobering to see the no-expenses-spared approach in the executive suites".
They said: "Meanwhile, executives cap locum rates, let doctors' messes fall into disrepair, and claim that taking coffee on the wards is stealing patients' supplies.
"Barts junior doctors created a joke ranking of available seats that include the lids of bins.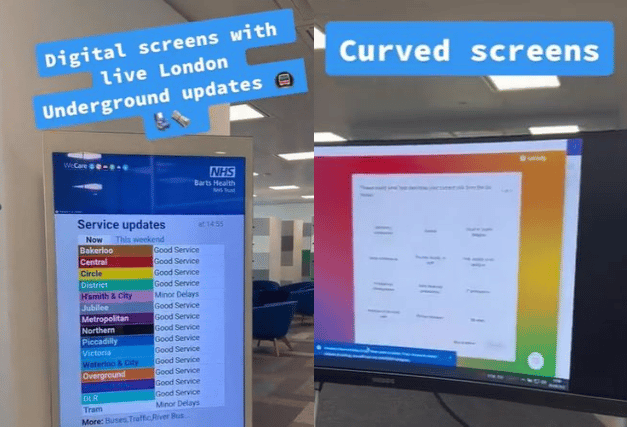 "This Tiktok proudly shows offices with dedicated pods for snoozing. Never mind that doctors have to throw together plastic chairs to act as a bench if they want a nap."
Junior A&E doctor Russell, who goes by @medic_russell on social media, said: "Meanwhile on the front line in this trust's hospitals we had to get changed in the toilets before doing a 12 hour shift and if you were lucky there were some cold chips for £3 in the canteen.
"Rest facilities on a medical night shift were a slightly plasticky sofa and a blanket in a freezing cold mess room."
While Dr Philip Lee added: "We should not be wishing to remove any of the facilities the Barts Health HR team have. We should be pushing for them to be rolled out to all NHS staff.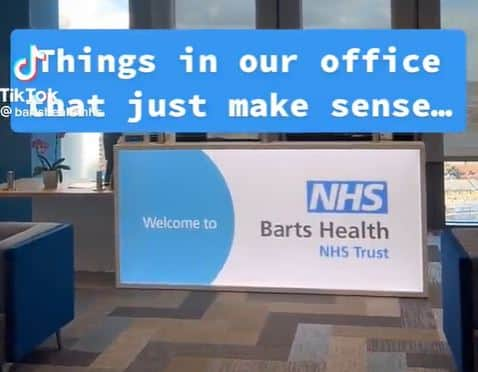 "If you're serious about staff retention and well being, then quality rest areas and facilities are a basic requirement.
"So yes, a quiet area where staff can rest, and at least sit down comfortably to eat, is a bare minimum."
Other medics even shared images of the staff areas at Barts hospitals, with Ali Nergiz tweeting a photo of his "handmade rest facility" comprising five chairs forming a bed.
While Dr Catriona shared a photo of a locker room at the trust, saying: "This tiny room is the entirety of the space available to get changed into mandatory uniform/scrubs - nightmare at shift changeover. Not a Sage barista in sight!"
A trust spokesperson has said on Twitter: "We are sorry for causing offence and have withdrawn the video from our social media channels."
They added: "It's clear we did not get this right - we are sorry and have withdrawn the video."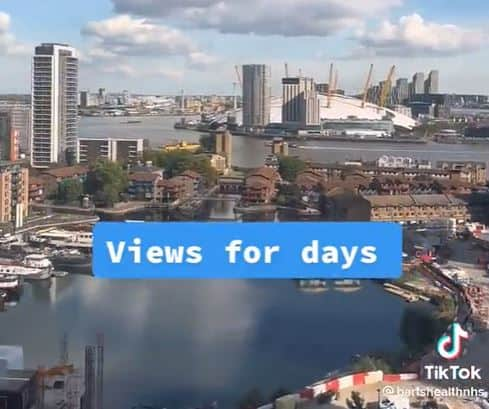 A spokesperson for Barts Health NHS Trust said: "We're sorry for the offence caused, have deleted the video and will look for other ways to promote our trust as a place to work.
"Thanks to Barts Charity we have improved wellbeing facilities for all staff in our hospitals, including dedicated wellbeing hubs, refurbished rest rooms, new lockers and bike racks, but we know we still have a long way to go."