Results day 2022: When A Level students in London will receive their results and how to appeal
A Level results for sixth form and college students is almost upon us
Watch more of our videos on Shots!
and live on Freeview channel 276
Visit Shots! now
One of the most nerve wracking days is coming up for A level students in London as results are soon to be released.
The upcoming results are the product of years of learning, nurturing, revision and of course some procrastinating, where students will find out if they've received the grades they need to progress to their chosen university.
This day can change peoples lives forever, with the date not far away to find out your fate going forward in life.
With the days leading up to A Level results day sometimes worse than the long days spent revising, here's when the wait is over, and how to appeal a grade you think is wrong.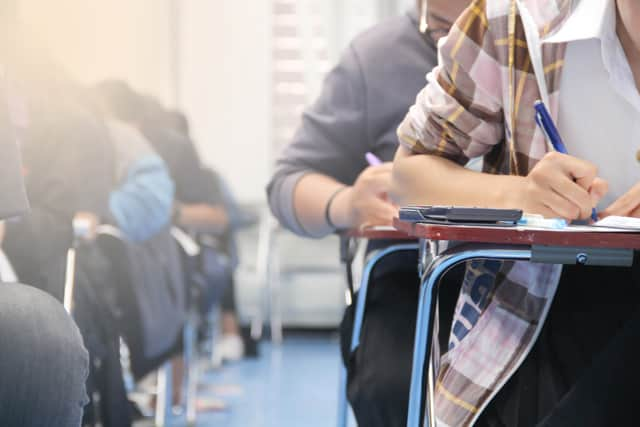 When is A Level results day?
Students in London will not have to wait too much longer to receive their A Level results.
A Level results day in England is Thursday, 18 August 2022.
What time can London students collect their A-Level results?
Pupils in London can get their A Level results on Thursday from 8am.
However, times may vary from place to place, but get there for 8am to be the first in line.
What time will UCAS update with my University application status?
UCAS, the Universities and Colleges Admissions Service in the UK is on track to update the hub at 8:15am.
By using UCAS, you will be able to find out if your grades were at the level required to get into your chosen university.
You will still have to receive your actual results physically from the college/sixth form where you've done your A Level
On Thursday, as students nationwide try to access the service, it may not be able to cope with the sheer amount of students trying to log on.
Can I appeal my grades?
If you're unhappy with a grade given to you, and you believe that the results granted to you are lower than what you need, you can request a review of the marking by the exam boards through their post results services.
If you decide to appeal, Study International recommends that you inform your chosen university.
They say: "Undergoing an appeal might require adjusting your application deadline with your university or choice.
"If they agree to hold your place, keep them posted on the progress.
"If your university will not wait, it's time to move on to the next course of action: reevaluate your course or university, or resit your exam."
What do I do if I'm away when the results are away?
With results being released in mid-August, it's likely that some may be on holiday, or have other plans on the day.
Ideally, however, you should be at least contactable, especially if you have received any conditional offers.
If you're unable to do it yourself, Prospects says "you could choose to nominate someone, such as a parent or guardian, who can access UCAS Hub and make changes on your behalf."
When completing your application, If you didn't nominate a person when completing your application, it's best to speak to UCAS and ensure they have access to your UCAS Hub to act on your behalf.