The top performing primary schools in London have been revealed today by Parent Power, the Sunday Times' Schools Guide 2022.
Every parent wants their child to get the best start in life and for some Londoners they are in the lucky position of living next to some of the best schools in the country.
Following the impact on schools due to the pandemic, Parent Power has also chosen the best 26 schools of the decade from all over the UK in recognition of their sustained excellence.
Unsurprisingly, that also made it the top primary school in London.
Alastair McCall, editor of Parent Power said;"This is a school that goes above and beyond every day in its quest to do the best for its children.
"Their achievements are many, not least in recording the best SATs results in England, but the spirit and culture of the school are what truly sets it apart.
"Children are told that it is not where they are from that matters, but who they are.
"High levels of deprivation are no barrier to success here and children are taught to aim high and have confidence in themselves.
"This is a school with a social conscience, an outstanding work ethic, a hugely talented staff and children for whom nothing is impossible."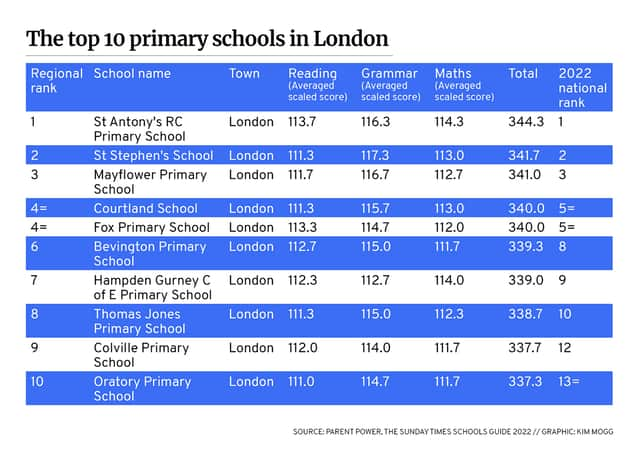 The second school on the list was also in Newham, St Stephen's Primary School in East Ham.
And the third best-achieving school was also from east London, Mayflower Primary School in Poplar, Tower Hamlets.
This trio were also the three best primary schools in the whole of the UK.
What are the best primary schools in London?
St Anthony's RC Primary School, Upton Avenue, Forest Gate, Newham, E7 9PN
St Stephen's Primary School, Whitfield Road, East Ham, Newham, E6 1AS
Mayflower Primary School, Upper North St, Tower Hamlets, E14 6DU
Courtland Primary School, Courtland Ave, Mill Hill, Barnet NW7 3BG
Fox Primary School, Kensington Place, Kensington and Chelsea W8 7PP
Bevington Primary School, Bevington Road, Westbourne Park, Kensington and Chelsea, W10 5TW
Hampden Gurney C of E Primary School, 13 Nutford Place, Victoria, Westminster, W1H 5HA
Thomas Jones Primary School, St Marks Road, Notting Hill, Kensington and Chelsea, W11 1RQ
Colville Primary School, Lonsdale Road, Notting Hill, Kensington and Chelsea, W11 2DF
Oratory Primary School, Bury Walk, Cale Street, Chelsea, Kensington and Chelsea, SW3 6QH
This is based on their average Standard Assessment Tests (SATs) from 2017-2019.
How were the rankings worked out?
The 29th edition of Parent Power identifies the highest-achieving schools in the UK, ranked by their pre-pandemic examination results.
As well as assessment of all academic results on a school-by-school basis, Parent Power enables parents to compare the performance of a given school with other schools in the same town, local authority or nationally.
There are also live links to school websites and schools' most recent inspection reports.
How do I see the full rankings?